UCLA Falls To No.7 and No.8 In Weekly Polls
By Bruin Basketball Report
After losing to Texas on Sunday at home, 63-61, and falling from the ranks of undefeated teams, UCLA dropped to No.7 in the AP writer's poll and to No.8 in the ESPN/USA Today Coaches poll this weak.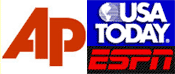 North Carolina, Memphis, and Kansas hold the top three spots in the rankings. After beating UCLA, Texas vaulted from No.8 to No.4 in the AP and No.5 in the Coaches polls.
Four Pac-10 teams are in the Coaches top 25; Washington St. #6, Oregon No.18, and Arizona No.24. While in the AP poll there are five Pac-10 teams; Washington St. #8, Oregon #19, Arizona #22, and USC #24.
UCLA's next game is against Davidson in the Wooden Classic on December 8 at the Honda Center in Anaheim. Davidson is led by high-scoring guard Stephen Curry.
Labels: Polls and Rankings