Mata-Real Returns To Practice, Collison Brace-less
By KS Wong
Bruin Basketball Report
Update: Junior Michael Roll re-injured the plantar fascia in his left foot today in practice. An MRI has been scheduled for Wednesday.
With two upcoming road games to open the Pac-10 this week, the Bruins will be close to full strength.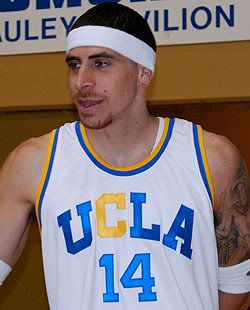 Senior center Lorenzo Mata-Real returned for full-contact practice this afternoon. He had strained a groin muscle at practice last week on December 26 and was forced to miss the UC Davis contest.

With games against formidable front lines at Stanford (Brook and Robin Lopez) and California (DeVon Hardin and Ryan Anderson), the return of 6'9 Mata-Real's is welcome news for the team.
Despite coming off the bench this season behind freshman Kevin Love, Mata-Real has been playing the best basketball of his collegiate career this year. He's averaging 4.5 points and 5.6 rebounds a game in 19.1 minutes, however, its his defensive presence, experience, and toughness inside where he contributes the most to the team. Mata-Real is averaging 1.3 blocks per contest.
Point guard Darren Collison practiced today for the first time without the protective knee brace on his left knee. He sprained his MCL during the first exhibition game on November 2. Although not quite back to 100%, Collison has commented the knee brace has been inhibiting his motion.
Collison is averaging 12.7 points and 3.9 assists in just seven games this season.
Walk-on guard Mustafa Abdul-Hamid also was cleared to practice today although he was scheduled to only go for half the practice. He suffered a stress reaction in his right foot on December 6 and has missed every practice and the last five games since the injury.
BBR Notes: UCLA remained ranked No.5 in both AP and Coaches polls released today. North Carolina, Memphis, Kansas, and Washington State occupy the top four spots in both polls.
(photo by Bruin Basketball Report)
Labels: Bruin Player News (Current)