Keefe Cleared To Practice, Bruins Look To Get The Ball To Love
By KS Wong
Bruin Basketball Report
UCLA Head Coach Ben Howland announced at his weekly media conference that sophomore forward James Keefe has been cleared to practice with the team.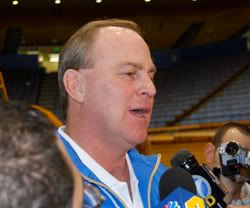 Today will be the first practice we've had all eleven of our scholarship players available together," Howland said.
Keefe, who had surgery on his shoulder after injuring it during a pick-up game over the summer, gives the Bruins additional depth along the frontline. He had bulked up over the summer with weight training and had been impressive in workouts before the injury. It will take at least a few weeks before he catches up with his teammates in terms of game conditioning.
Towards the end of the game against Texas, Howland used Lorenzo Mata-Real in place of Kevin Love at center due to Mata-Real's experience and better defensive presence.
"Kevin was a great teammate even when he was out of the game. He was cheering his teammates," Howland said. "He has a great attitude and is about the team winning first. That's what I love best about Kevin."
Howland acknowledged his team needs to do a better job against zone defenses and getting the ball inside to Love.
"We have to do a better job getting Kevin the ball," Howland said. "He had eleven touches in the game which is terrible considering on Saturday seven of the eleven times he got the ball we scored."
The UCLA Head Coach understands getting the ball to Love in the post opens up opportunities for the entire offense.
"Part of it is that Kevin is by far the best passing big man we've had in my five years here," Howland said. "We were never great in getting the ball inside and getting it back out and making plays for others. It's a night and day deal compared to guys we've had int he past. It's my responsibility, and it will be emphasized this week in practice.
More specifically, Howland wants to emphasize at practice in getting Love more touches at either the high post, short corner, or even at three-point line where he is a definite threat with his shooting and passing abilities.
Over time and with practice Howland feels the Bruin offense should become very effective against zone defenses.
"We're going to be a real good zone team primarily because we have two outstanding passers in the starting lineup with Kevin and Luc (Mbah a Moute)," Howland remarked. "We've got to utilize their ability to pass the ball."
Although Mike Roll only played five minutes against Texas, Howland feels Roll's return will only help the team's offense.
"Mike Roll is our best post feeder," Howland said. "We also need him back because he stretches the zone since he shoots the ball so well. He does a lot of different things for the team."
UCLA's next game is against Davidson on December 8th in the Wooden Classic at the Honda Center in Anaheim.
(photo by Bruin Basketball Report)
Labels: Team Misc News