James Keefe To Redshirt This Season
By KS Wong
Bruin Basketball Report
With finals week in full swing at UCLA, Bruin players have been busy with their late-night studies, however in the midst of all the scholarly pursuit, at today's press conference Head Coach Ben Howland announced sophomore forward James Keefe would be redshirting this season.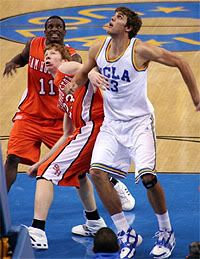 "I met with James this morning and I talked to his parents last night and we've decided we're going to redshirt James," Howland said. "He will be a redshirt this year provided that no one comes down with a season-ending injury between now and January 12th."
Howland would not ask Keefe to come back after this date since he wants to assure Keefe only returns if he can play in a significant number of games this season.
"On January 12th there would still be fourteen league games, the conference tournament and hopefully the NCAA tournament where he would be a significant player within that time frame," Howland said.
At the start of his freshman season last year, Keefe was getting pushed around underneath and realized he needed to add some weight and muscle if he was going to compete at this level. By the NCAA tournament Keefe was performing better and was contributing significantly late in games.
"I thought he would push people for playing time and would play more this year," Howland said.
Over the summer the 6'8 225lb Keefe continued working out with weights and impressed coaches and teammates with his play, but then in an awkward collision during a pick-up game in July he tore the labrum (cartilage) in his left shoulder. It wasn't until Keefe went to UCLA's advanced skills camp in August that an MRI revealed the injury and surgery would be required.
Keefe underwent rehabilitation and finally returned to practice just last week, but with the number of rotation players the Bruins have at power forward and center, Keefe was going to struggle earning playing time this year.
"With only having five practices and being three weeks from opening conference, whose minutes is he (Keefe) going to take?" Howland said. "I look down the road and I would not be wanting to redshirt him if I didn't think he had the ability to be a significant player in our program and contributing at a high level."
Keefe and his family have been discussing the possibility of redshirting this season since he underwent shoulder surgery in August.
"The decision to come back or not always was to see how my progress was," Keefe said. "I feel pretty good in practice, but we're obviously real deep this year in that position. Those guys are nine games in. It's about limited minutes this year versus playing significant minutes in the next coming years."
Last season Keefe, a former Santa Margeurita high school star and McDonald's All-American, averaged 1.0 points and 1.6 rebounds in 32 games as a freshman.
Howland also revealed today that walk-on point-guard Mustafa Abdul-Hamid suffered a stress fracture in his foot prior to the Wooden Classic and would be out for the next two weeks.
"We need him (Abdul-Hamid), he's been a very good player, helping us get to this point just through practices," Howland said. "Now Russell (Westbrook) has to go against Darren (Collison) one-on-one rather than playing on the same side in practices."
Howland has been satisfied with Darren Collison and Mike Roll's progress since their return to the lineup.
"Both Darren and Mike were pressing a little bit in their first game back but its normal," Howland said. "Mike took some bad shots but he's settling down and Darren is getting close to where he was before he hurt his knee."
One player that Howland has been very happy with is Russell Westbrook who he feels has been the best player over the team's first nine games.
"He's leading the conference in assists and is our best perimeter defender right now." Howland said. "This year he's much better defensively. Last year he constantly got beat off the dribble because he would open up too much or be off balance - he's really improved. He also has that athletic ability. He has very good quickness and he's stronger than he was a year ago."
BBR Notes: According to Coach Howland, senior center Lorenzo Mata-Real is only five to six classes from graduating. "I'm really proud of how hard Lorenzo has worked," Howland said. "He's a great kid and has a great attitude."
(photo credit: J Rosenfeld)
Labels: Recruiting Misc News