Trevor Ariza Dealt To Lakers
By KS Wong
Bruin Basketball Report
The Los Angeles Lakers have acquired former UCLA Bruin Trevor Ariza from the Orlando Magic in exchange for forward Brian Cook and guard Maurice Evans, it was announced today by General Manager Mitch Kupchak.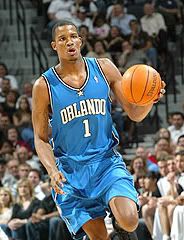 Ariza, a 6'8 forward in his 4th NBA season, averaged 8.9 points and 4.4 rebounds in 22.4 minutes per game last season with the Magic.
Under new Magic head coach Stan Van Gundy, Ariza had fallen out of the regular rotation, averaging 3.3 points and 2.2 rebounds a game in just 10.5 minutes.
Ariza has struggled with nagging foot and leg injuries which limited him to an average of 57 games the past two season.
The Magic front office had been high on Ariza and were enamored with his defensive capabilities and potential. However after the team acquired forward Rashard Lewis via free-agency this summer, it seemingly made Ariza expendable.
Still just 22 years old, the former Bruin has good size, athleticism and gives the Lakers a much needed defensive presence on the wing.
Ariza was originally drafted by the New York Knicks with the 43rd overall pick in the second round of the 2004 NBA Draft. He was traded to the Magic during the 2006 season.
Its a homecoming for Ariza, he attended Westchester High School in Los Angeles and played one season at UCLA prior to entering the NBA. He averaged 11.6 points and 5.5 rebounds in his single season at Westwood.
Although Ariza had been recruited to UCLA by Steve Lavin, it was current head coach Ben Howland who coached him in his year at UCLA.
(photo credit: NBA)
Labels: Bruin Player News (Former)