Collison Returns, Westbrook Sparks Bruins To Victory
By KS Wong
Bruin Basketball Report
Sophomore guard Russell Westbrook scored 19 points, grabbed 7 rebounds, and dished out 8 assists to lead UCLA (7-0) to a 83-60 thrashing of George Washington before a crowd of 9,691 at Pauley Pavilion.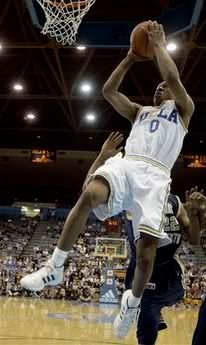 Westbrook seemed more relaxed on the court in this game, yet and at the same time was more aggressive on offense attacking the seams of the Colonial's zone defense for inside shots or dishes to open teammates.
Perhaps the reason for Westbrook's play was the return of preseason All-American point-guard Darren Collison who came off the bench to play a surprisingly long 26 minutes in the game.
With Collison on the floor, Westbrook moved back to his natural spot at the two, and with the burden of running the offense off his shoulders, he was able to get back to the strength of his game, mainly creating offense with his speed and incredible athleticism. Just as impressive, Westbrook was a perfect 9 of 9 from the charity stripe.
Collison, playing in his first game of the regular season after spraining the MCL of his left knee on November 2nd, finished with 14 points on 4 of 9 shooting and 5 assists. He wore a protective brace on his knee.
At first Collison started off slowly, and seemed tentative jumping off his left leg, but as the game continued he increasingly gained confidence in his play and ability to move on the court, he even took some off-balance shots which landed him on the floor a few times as his coaches and Pauley fans winced with every fall.
"He made a big jump," UCLA Coach Ben Howland said. "Now he's playing out there not thinking about the injury anymore. It's incredible how he played after he'd not done anything in 24 days and not having played a game for 26 days."
George Washington was able to stay with UCLA for most of the first half with some timely three-point shooting while on defense their press and zone gave the Bruins some difficulty. UCLA went into the half with just a 44-35 lead.
The Colonial's zone defense sagged down to suffocate Bruin freshman Kevin Love who only managed 2 of 4 from the field but he still managed to record another double with 11 points and 11 rebounds despite GW defenders grabbing and mugging him whenever he went into the post.
In future games, Love's teammates need to do a better job finding him in the high post when opponents sag down inside on him, to give Love some relief and to also take advantage of his passing and shooting ability.
The Bruin's grinding, physical play eventually took its toll on their opponent in the second-half as George Washington scored only 25 points on a meager 32% shooting.
UCLA was also more effective in attacking George Washington's defense after halftime.
Junior Josh Shipp added 15 points on 6-12 shooting including two three-pointers early in the second-half to help the Bruins pull away in the game for good.
"We really did a good job in the second half, coming out and attacking the press," Howland said. "I was especially pleased with Westbrook's penetration to a jump stop to kicking it back out. He hit Josh for those two threes in a row."
Despite facing a pressing team, the Bruins committed only 10 turnovers. Collison had zero turnovers in his return. On the other side, UCLA's own pressure halfcourt defense forced the Colonials into 19 giveaways.
Alfred Aboya, who fractured a bone below his eye in the game against Yale, started at power forward wearing bright yellow goggles to protect his injury. He was 3 of 4 from the field before fouling out late in the game. He complained of some headaches during the game as a result of playing with the goggles.
UCLA will now face the No.8 ranked Texas Longhorns on Sunday at Pauley Pavilion in the inaugural Big-12/Pacific-10 Hardwood Challenge.
(photo credit: AP)
Labels: Game Summaries