Bruins in the NBA Report
By KS Wong
Bruin Basketball Report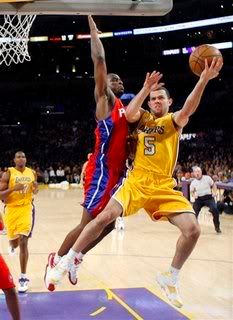 Jordan Farmar, Los Angeles Lakers: Farmar and Derek Fisher have formed an effective tandem in the backcourt. Fisher brings veteran leadership and championship experience while Farmar provides the Lakers with a burst of youthful energy off the bench. Farmar has improved in every category versus his rookie season, he's averaging 9.4 points, 2.9 assists in 20.5 minutes while shooting 48.5% from the field including 38.6% from beyond the arc. While he still needs to improve with consistency from game to game, Farmar is still only 21 years old and along with center Andrew Bynum form the pillars of the future for the Lakers team.
Arron Afflalo, Detroit Pistons: Rookie Arron Afflalo continues to do a solid job for the Pistons. With veterans Richard Hamilton and Flip Murray ahead of him on the depth chart, Afflalo isn't expected to play major minutes this season unless there is an injury to players, however, he continues to play solid defense and doesn't make many mistakes when he's on the floor. Afflalo is averaging 3.5 points and 1.1 rebounds in 11.5 minutes and has no turnovers in his last nine games If he expects to earn additional time on the floor, he'll need to improve upon his outside shooting where he is shooting just 42.5% from the field and an anemic 7.7% (1-13) from three-point distance.
Matt Barnes, Golden St. Warriors: Tragically Matt Barnes beloved mother, Ann Barnes, passed away from cancer on Tuesday. He had missed five games in November due to a leave of absence in order to be with his mother during her final days. She had urged Barnes to play again despite her sickness because it was one thing that made her very happy. Upon returning to the line-up and playing against the Sacramento Kings, she passed away shortly after the end of the game. Barnes has been hobbled by nagging injuries for most of the season but has been coming on as of late despite playing with a dislocated ring finger, and of course, having to face a difficult personal situation.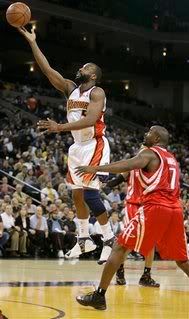 Baron Davis, Golden St. Warriors: Davis is having one of his best offensive performances in his career this year. After struggling with outside shooting earlier in the season, he has improved his field goal shooting to 42.5% and 32.2% from three-point distance while averaging a career-high 24.0 points a game. He is also dishing out 8.6 assists and grabbing 5.4 rebounds a contest. Davis, along with the return of teammate Stephen Jackson, is one of the main reasons for the Warriors stellar play of late . After starting off the season with six straight losses, the Warriors have won 8 of their last 9 games to vault into third place in the Pacific Division standings.
Trevor Ariza, Los Angeles Lakers: After struggling to get into Stan Van Gundy's rotation in Orlando, Ariza received a pleasant surprise by being dealt last week to the Los Angeles Lakers in exchange for reserves Brian Cook and Maurice Evans. Ariza, a Los Angeles native, is expected to provide the Lakers with intensity off the bench especially on the defensive end. He has only played in one of four of the Lakers games since the trade, and it may be awhile before he learns the intricacies of Phil Jackson's triangle offense and earns minutes on the floor.
Dan Gadzuric, Milwaukee Bucks: With Andrew Bogut, Charlie Villaneuva, and Jianlian Yi each playing major minutes at the four and five spots, Gadzuric's minutes have been limited this season. Still, he is averaging a respectable 2.4 points and 2.8 rebounds in 11.1 minutes of action per game.
Ryan Hollins, Charlotte Bobcats: Hollins suffered a strained left shoulder earlier in the week. Although an MRI revealed no tear or damage, he has missed the Bobcat's last three games and is listed day-to-day. Up to that point he was averaging 3.0 points and 3.8 rebounds a game in 14.3 minutes of action.
Jason Kapono, Toronto Raptors: After starting the first six games of the season for the Raptors, Kapono is now coming off the bench in favor of Jamario Moon who provides the Raptors with better rebounding and defense. But the move has been a plus for both Kapono and the Raptors. Since becoming a reserve, Kapono has shot over 55% from the field and is now averaging 9.8 points a game while shooting 52.6% from the field and 48.9% from beyond the arc for the second-place Raptors.
Darrick Martin, Toronto Raptors: Due to an arm injury to guard T.J. Ford, Martin was activated on the Raptor roster four games ago and is averaging 9.3 minutes a game. Once Ford returns in a couple of days, Martin will return to inactive status and continue his role as veteran leader in the locker room.
Earl Watson, Seattle Supersonics: Watson is in a battle with Delonte West for the starting job in Seattle. The Sonics who have struggled all season were in need of a shake-up and replaced Watson with West a couple of games ago. Watson has suffered from inconsistent shooting all season, he is averaging 7.2 points and 5.9 assists a game this season on just 38.5% shooting.
Jelani McCoy, Denver Nuggets: The Nuggets signed center Jelani McCoy off the Los Angeles Lakers' Developmental League affiliate Thursday, bringing back a big man who had played with them in the preseason. McCoy averaged 8 points, 6.5 rebounds, 4 blocks and 3.5 assists in two games with the L.A. D-Fenders. McCoy had played overseas the past two seasons.
(photo credit: NBA)
Labels: Bruins in the NBA Report