UCLA and Howland Agree To New 7-Year Contract
By Bruin Basketball Report
UCLA and men's head basketball coach Ben Howland have agreed on a new seven-year contract, athletic director Dan Guerrero announced today.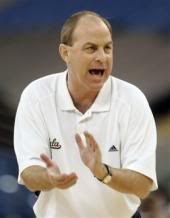 The new contract, which runs through the 2013-14 season, includes guaranteed compensation of $1.5 million for the 2007-08 season and escalates to $2 million for the 2013-14 season. It also includes the incentive package from his previous contract that has a maximum value of $235,000.
"Ben is certainly deserving of this commitment by UCLA," said Guerrero. "He is clearly one of the top teachers and recruiters in college basketball. He has re-established UCLA as one of the nation's elite programs, as our back-to-back Final Four illustrate, and has built a solid foundation that will keep us at the forefront for the foreseeable future."
Howland has coached the Bruins to consecutive NCAA Final Fours the past two seasons. In his four years since arriving in Westwood from Pittsburgh, Howland has compiled a 91-41 (.689) record.
"There is no place I would rather be coaching than UCLA," said Howland. "This has always been my dream job. I grew up a Bruin basketball fan and it still is hard for me to believe that I am the caretaker of the program that Coach Wooden built. UCLA is a great institution, both academically and athletically, and I am grateful to Chancellor (Gene) Block and Dan for the faith they have shown in me. Back-to-back Final Fours are great, but our team is looking forward to the challenge of taking the next step."
(photo credit: AP)