Love Injures Left Shin In Practice
By KS Wong
Bruin Basketball Report
10/27 Update: X-rays were negative and he should return to practice today.
UCLA freshman Kevin Love suffered a serious bruise to his left shin after being kicked during practice on Friday.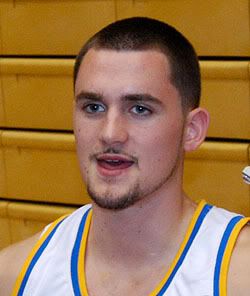 Head Coach Ben Howland said Love had precautionary X-rays done but the results won't be known until later this evening. However, the examining physician did not believe the injury was serious, and Howland stated Love walked up the stairs and out of Pauley Pavilion under his own power.
Love has already suffered a number nicks and bruises since the team began practices two weeks ago. Last Monday Love left practice with long scratch marks on his back and multiple contusions to his left calf.
The Bruins can not afford any more injuries along the front line.
Center Lorenzo Mata-Real sprained his right foot in Wednesday's practice, although he may return to practice tomorrow or Tuesday. He is currently wearing a walking boot as a precaution.
Sophomore James Keefe is out until mid-December while recuperating from offseason shoulder surgery.
(photo: Bruin Basketball Report)
Labels: Bruin Player News (Current)