Love and Mata Collide - Just Another Day At Practice
By KS Wong
Bruin Basketball Report
How tough is Kevin Love? He's Howland-tough.
Nowadays UCLA basketball practices are just as rough and competitive as any game the team might play against an actual opponent.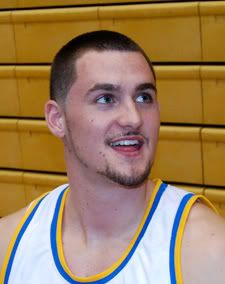 Players bump, they grind, and dive after loose balls. Its the type of practice philosophy Head Coach Ben Howland has instilled in his players that has helped the Bruins develop a reputation for their toughness.
Freshman Kevin Love is learning this quickly.
Although Love has been the recipient of bruises and cuts from practices, he is not the type of fellow to back down.
In today's open practice, Love received a pass near the foul circle and drove hard though an open lane to the basket, but the lane was only open momentarily as 6'9 Lorenzo Mata stepped in to seal it off, but Love not to be deterred continued his drive until both player's knees collided violently under the basket. Both players rolled onto the floor as the next five minutes at Pauley Pavilion was filled with stunned silence from the hundred of fans who showed up to watch the team practice.
Mata was sitting up on the floor in agony, but it was obvious Love had gotten the worse of the collision as he laid under the basket writhing in pain and rubbing his knee. Coaches and trainers quickly tended to the freshman and after some long moments it was determined the knee was only bruised.
Love returned to the scrimmage a few minutes later but then removed himself again after the knee seemed to stiffen up.
"I got the ball out top and drove to the basket, Lorenzo swiped at the ball and we just banged knees," Love said. "I think he got hit on the top of the knee and I got hit on the side of the knee where I already had a bruise."
"I'll be back tomorrow a 100%," the freshman big man said. "It felt a little weak after I came back on to the floor and couldn't jump off it. I decided to take myself out of practice because I didn't want to hurt it since we have a game on Friday."
Since the start of practice, Love has been getting a daily dose of physical play from his own teammates.
"It's just the physicality of college ball," Love said. "I'm a big guy so I'm going to take a beating inside but Lorenzo and Alfred are going to take a beating as well. I figure that I just need to keep building up that scar tissue (smirking) and I'll be all right."
When asked what has been the biggest transition from high school to college ball, Love said, "Probably the defense. That's why I decided to come here, so that I could learn to play better defense. Coach Howland is not only the best in teaching individual defense but he's also the best in teaching team defense."
Junior Alfred Aboya continued to show a new and improved outside shot, hitting a number of jumpers during scrimmage games.
"Alfred has really improved his shot," Howland said. "He's a much better shooter now than he's been his first two years. I have confidence in his shot 17-18 feet that it will go in."
Howland has also been impressed by freshman Chace Stanback's effort and willingness to learn during practices.
"Chace Stanback is a good rebounder." the UCLA Head Coach said. "He's working hard to improve his shot and getting bigger and stronger by working hard in the weight room. He's going to be a good player - it just takes time and experience."
Sophomore Russell Westbrook showed up proudly at practice today sporting a new short-version of a mohawk. When asked what they thought of Westbrook's new hairdo, both Darren Collison and Love agreed, "That's just Russell, he just wanted to do something that would get him noticed."
Not the case, said Westbrook. "I was thinking about this for two or three weeks," he said. "I just had to wait for my barber to be around."
When asked if he'd like to get a hair cut to match his sophomore guard, Howland responded, "No, I'm just lucky to have some hair - and I'm going to try to keep it as long as I can."
(photo: Bruin Basketball Report)
Labels: Team Misc News