Josh Shipp Q&A After the Bruins' Sixth Practice
(courtesy of UCLA Athletics)
on how he's feeling after the first several practices
"I feel good for the most part. There is not any joint pain in my hip, mostly just muscular stuff that comes from getting back into basketball shape. Overall, practice is going well and I'm getting back into shape. I'm feeling good about it."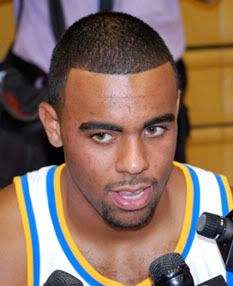 on improving his game
"I've worked on everything. I take pride on being an all-around player. I don't want guys to focus on just one part of my game. This past year was kind of hard. I was doing a lot of rehab, and I wasn't able to get out there and do a lot of the individual stuff that I wanted to do. But we've been working on little things in practice, just shooting and dribbling and creating for others. In every aspect of the game, I just try to get better."
on emphasis on defense versus offense
"Our emphasis is on the defensive end, and that's what we do first and foremost. Every night we will play defense - our shot might not be falling sometimes, but first and foremost is defense. If we add our offense and shoot along with that, it's definitely going to be a hard night for the other team."

on Lorenzo Mata-Real's first practice today after sitting out with an ankle injury
"He cut it a little short (today in practice), but when he was out there he looked really good. I was very impressed with him. He's coming back into shape, and I'm not worried about him. He'll be OK."
on Chace Stanback
"Chace is looking good. He's a freshman, so coach is riding him, but he needs that. At the same time, that is helping him out a lot. He's learned a lot of the little things, and he'll be good this year. I've definitely seen a lot of progression with him. His overall game has really improved. His ability to shoot looks really good, and he's able to create and do things for other players. Playing against him is a little different - I'm used to playing with him on my team. At the same time, it's fun. I like playing against good players. Plus, we come from the same neighborhood, so we have that little rivalry going, so that's good, too."
on playing with Kevin Love
"We're definitely going to try and fast break a lot more with him in the game. He is great at throwing the outlet pass and the guards are looking to get out early and catch those outlet passes. With him in there, we will try to fast break a lot more. With Lorenzo, he's going to be good at getting it out. Darren is quick and can also get the ball up to us. We're still going to fast break either way."
on Darren Collison
"Darren is looking really good. He's so quick, that he creates things for others. That's so key for us in this offense. He steps up in a leadership role for us. I think he's looking really good, and he's had a great first week of practice.
on Darren Collison and Josh Shipp stepping up as leaders
"We definitely feel that, and we've stepped into that role. Arron (Afflalo) was a great player for us last year, and we lost a lot of things when we lost him. Darren and I have been working hard, and it's our time now to prove that we are great players and great leaders out there."
on preseason hype
"I don't really read those [preseason magazines]. They don't mean anything to me. We have to go out and prove every night that we are the No. 1 team. It doesn't matter to me. It's not going to make or break my day if somebody doesn't say that we are No. 1."
on Luc Richard Mbah a Moute working on his shot
"Luc has improved a lot. I think that Luc has done a great job working on his shot. He's a lot more consistent."
(photo: Bruin Basketball Report)
Labels: Bruin Player News (Current)