Howland Updates On Team Progress After First Five Practices
UCLA mentor pleased with progress as the Bruins prepare for another exciting season.
[courtesy of UCLA Athletics]
on Lorenzo Mata-Real
"He was just cleared to practice today and he'll practice with contact on Thursday. He did go today, the first 45 minutes of practice we had a lot of skill work. He was able to go 45 minutes today because there was no contact."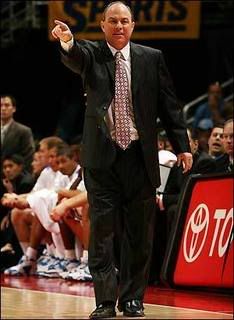 on Josh Shipp
"Josh is looking good. He was sore, which is to be expected - but they're all sore, since it's the first week of practice. They're all going hard and things are really physical. So, he was definitely sore and he practiced very well. He shot the ball extremely well. He's probably shooting it better than I've ever seen him shoot it right now, since he's been at UCLA. He's very strong and he's surprisingly in good condition. I'm really pleased with how Josh practiced."
on Luc Richard Mbah a Moute and Alfred Aboya
"I thought Luc has had an unbelievable week of practice. He was great this week. Tomorrow is our off day and we start back up again on Thursday. Alfred Aboya had a great week of practice. He really is making it good for Kevin to compete everyday against someone who really works hard and is competing physically. Kevin, the last few days in practice, was both our leading rebounder and scorer. And yet, he's earning every point and every rebound because he's going against Alfred. There is nobody who works harder than Alfred Aboya."
on Luc and Alfred returning to Cameroon this summer
"I think it was great for him. And they both played for their national team. Alfred did the first time they went home, and Luc went back to Africa for the Afrobasket that was shown on TV against Egypt that we got to see. There's no question that had to be great for them. I just felt bad because Alfred went home and then he was gone to Algeria for the next two weeks. He only got to spend about eight days in Cameroon.
on playing on national teams and the risk of getting injured
"I think there are more benefits than risks. For both of those kids, they have a strong love and feeling for their country, and they have great pride in representing it. That's the best that Cameroon has ever done in a tournament.
on Luc changing his shot
"He improved his shot by changing his stroke. He now has a much shorter, more compact stroke. Through proper fundamentals and lots of repetition. He did it, number one, through his efforts and hard work. We started in the spring having him shooting one-handed. So for the first couple of weeks, all he did was shoot one-handed shots, getting his elbow under the ball. In other words, the only way to consistently make it one-handed is to have proper balance and have good follow through. Then he started putting his other hand on the ball and, as you remember, he didn't do any shooting or jumping for three months. So all he did was keep shooting one handed with his guide hand on the ball. He got the managers to come in and rebound for him. So he spent the time and effort, and then he watched film of himself. Even when he went home to Cameroon he took home film. It's really been exciting to see him, as you are for any player, to see hard work pay off.
"He started playing basketball four years total when he got to UCLA. His high school coach did a great job with him. But that was probably his biggest need to improve. He's shooting the ball with a much shorter stroke - less motion, less chance of error.
on what influenced Luc to change his shot
"We talked about it, being able to spend the time doing it. I'll be honest with you - Scott Garson did a great job working with him. Scott was really the one that spent a lot of time with him. Scott really deserves a lot of credit helping Luc improve his shot, without question. It's hard during the middle of the season to change your shot like that. So in the offseason is where it takes place, and he spent the time and the effort. He's going to have to continue to work at it. I just feel good about it and I'm happy for him."
on James Keefe
"James was able to put his left hand on the ball today and start to shoot now. James Keefe looks like he's going to be able to start shooting regular shots now. He's been only shooting one handed up to this point. Other than that, everything is pretty much the same."
on Chace Stanback
"He had a great practice on Sunday. And then he had a poor practice on Monday. There are a lot of things he has to learn about playing lower. He competes hard, and he's got a lot of things coming at him to learn. He has to go against good players every day. Josh has been taking it right at him. He's playing against experience guys who are very good players. I think he's doing a good job when you look at that."
on Nikola Dragovic
"Nikola has done a good job this week. The tough thing for him is that he's got to match up against Luc in practice, and that's no fun, as far as trying to block him out and keep him off the boards. Nikola has been doing a good job of shooting the ball this week, and that's one thing we know he does well. He's playing the four right now in our practices, exclusively. With James and Lorenzo out this first week of practice, our only bigs are Alfred, Kevin, Luc and Nikola."
on Michael Roll
"He's been playing very well in practice. For example, in yesterday's practice he had 11 assists and zero turnovers. He's shooting the ball well and playing like a veteran player. He's playing smart defensively, taking good shots, he's a good passer and post feeder and he's battling through sore feet. Suffering through plantar fasciitis symptoms in his feet that haven't gone away
(photo credit: SI)
Labels: Coach Ben Howland