Howland Shares Thoughts After Bruins' 7th Practice
(courtesy of UCLA Athletics)
Kevin Love has a left calf contusion, but should be able to practice tomorrow.

on Lorenzo Mata-Real's sprained foot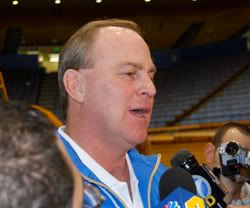 "He's not at 100 percent. He's playing with a painful sprain. He's actually gone through two practices. It was a little swollen and sore this morning, and he's gotten through it. He's doing a good job."
on players who have stood out the last two days
"It's been two hard practices. I don't know that anybody has really stood out, any different from where they were after the previous five practices. Kevin got kneed again in the left calf. He got kneed in the same spot three times, so he's got a contusion there. It's been by Alfred the last couple days, but I think it was Luc one day, too. He just keeps getting kneed in the same spot. Hopefully, he'll be OK tomorrow. We had to take him out the last five minutes of practice so that he could get it iced. But with our guys, it's been a very intense practice the last couple of days. They are playing very hard. I think that, offensively, we've got a long way to go to run good motion. We don't have a first team and second team situation in there. It's hard to run real good motion right now, but we'll get there."
on Kevin Love's performance
"The best thing is that he's going to play a lot down low. Our team, as you know, doubles the ball a lot in the post. He's been really good at reading that and making quick passes before the double even gets there and getting his teammates wide open shots."
on recruiting visits during the weekend
"Today, they have been on campus all day. They have gone to a class and took a tour of the campus. They ate in the dorms, to get a feel for dorm food. At UCLA, it is [a good thing]. Our dorm food is really good. It's actually a positive. Some of the parents are on the trip and all of them will be with us tonight. So it's nice for them to see the dorms and see where they are going to be living. Obviously, we do a lot of academic meetings. But they have already all done that previously. We go over everything again in detail. They all get a chance to meet with our athletic director and a number of different people on campus. They all go to practice. And tonight, we're all going to my house for a meal. We have practice [Saturday] morning from 10-11:45. We're going to take a quick shower and hope to get out there [for the UCLA-Cal football game] by the end of the first quarter, and maybe even before that."
on number of scholarship players
"We really don't have that many moving parts. Right now we have 10 healthy scholarship players, including Lorenzo with a sprained foot. We don't even have the full allotment of scholarship players. We're allowed to have 13, and we have 11 this year. We're out with James Keefe right now, so we're down to 10. So it's not like we're going to be a pressing team with this group. We may press some, and with certain lineups in there it may be a good pressing group. But to make that a main staple, that isn't something I plan on doing."
on Darren Collison
"Darren had a very good practice yesterday. He is playing with a lot of intensity on the defensive end of the floor. He's doing a good job pushing the ball. He's being very unselfish. He led us in assists the first week of practice and again yesterday. He has done well."
on Kevin Love getting kneed in the calf
"He's pretty tough. When you're playing in the post, in general, it's so physical in there. He's got two big scratch marks on his back. Somebody scratched the heck out of him yesterday. So, I checked everybody's fingernails today to make sure everybody had nice, short fingernails. Fingernails that are long can be very dangerous playing basketball. You can scratch somebody's cornea. You should see his back. Those marks will still be there on Monday. I saw it when it happened. It was a pretty significant scratch."
on Nikola Dragovic
"Well, Nikola is definitely doing a good job right now. He is smart in that he plays within himself and doesn't try to do too much. He's a good passer, he's a good shooter and he's trying to do better defensively. At times, he's matched up with Chace (Stanback). He's going to have to hold his own on the defensive end of the floor."
on Michael Roll wearing orthotics
"He's got them and he's wearing them. He had a little soreness in his knee yesterday. Sometimes, you worry about how it changes the pitch of your foot."
on UCLA's dorm food
"I've had it many times, both during camp and when we have recruits on campus. Scott Duncan, who is on my staff now, has been at about eight or nine different jobs at universities over the last 25 or so years. He was just commenting how much better it is here than anywhere else he's ever been."
on his overall thoughts about practice thus far
"It's just scary that we have to play a real game three weeks from tonight. There is a lot of work and a lot of things to put in."
(photo: Bruin Basketball Report)
Labels: Team Misc News