Bruin Recruiting: Prep News Roundup (10/29)
By Bruin Basketball Report
Prep News Roundup is published every Monday.
Commits
Woodland Hills Taft boys' basketball Coach Derrick Taylor is predicting a big season for UCLA-bound guard Jrue Holiday of North Hollywood Campbell Hall. "You're going to see a high school version of Kobe Bryant," Taylor said. As for how he's going to deal with 6-10 center Renardo Sidney of Los Angeles Fairfax, Taylor suggested that Sidney's coach, Harvey Kitani, encourage him to shoot lots of "threes." LA Times 10/27
Recruits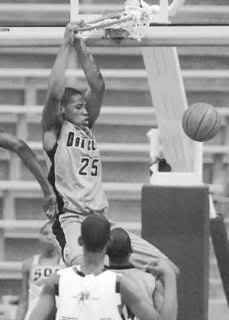 Morgan visits Cincy:
J'Mison Morgan
, a 6-10 senior center from Dallas South Oak Cliff High, told Rivals.com he had fun on his official visit to Cincinnati over the weekend. He now has completed his NCAA-allotted five visits: to KU, Cincy, UCLA, LSU and Alabama. "It's a nice campus," Morgan told BearcatLair.com of Cincy. "Everything is real close together, and I was able to watch the team practice and hang out with the players. Coach (Mick) Cronin was telling me I should be an automatic force if I work hard, and there should be immediate playing time. I want to get minutes my freshman year but I don't have to start." Morgan will announce his college choice on his birthday, Nov. 2.
LJ World
10/22
"I like North Carolina a lot," Stephen Van Treese said. "They didn't offer me. Roy hasn't seen me play yet and he said he doesn't offer players that he hasn't seen yet. He said he was going to come see me play the first couple weeks of our season." A week prior to his visits to Wake Forest and UNC, Van Treese made the two-hour drive from Indianapolis to Louisville to check out Louisville's campus and meet with Rick Pitino. "I enjoyed it," said Van Treese, who has a scholarship offer from the Cards. "Their facilities are amazing. Everything there was real nice." To go with offers from Wake Forest and Louisville, he also claims offers from Xavier, UCLA, Indiana, Kentucky, Notre Dame, Ohio State and Purdue. Van Treese said Kansas, Florida, Duke and North Carolina round out his list of 13 schools. Deacon Sports 10/23
But KU also is in the running for 6-7 point forward Jordan Hamilton (No. 8), 6-3 guard John Wall, 6-9 forward Daniel Orton (No. 11) and 6-10 center DaShonte Riley (No. 13). Between now and 2009, the Jayhawks are sure to lose eight players off the current roster, not including sophomores Darell Arthur and Sherron Collins, both potential NBA defections. Topeka Capital-Journal 10/26
Another piece of the 2009 graduating class put himself into the Arizona State men's basketball puzzle on Thursday, as point guard Jared Cunningham made a verbal commitment to the Sun Devils, less than a week after making an official visit to the school. The 6-foot-3, 155-pound junior from San Leandro (Calif.) High School also drew interest from California, Gonzaga, Washington State and San Diego State, but made up his mind when he and his father returned home from Tempe last weekend. Scout.com lists Cunningham as the No. 8 point guard and No. 56 overall prospect among this year's junior class. East Valley Tribune 10/26
(photo credit: LJ World)
Labels: Prep News Roundup