Bruin Recruiting: Prep News Roundup (10/15)
By Bruin Basketball Report
Prep News Roundup is published every Monday.
Commits

UNC already has commitments from Ed Davis, the No. 20 prospect, and Larry Drew, the No. 78 prospect. Add Zeller (No. 22) and Shumpert (No. 26), and I would give North Carolina's class the edge over UCLA's present class for the No. 1 spot. The positional diversity of UNC's hypothetical four-man class gives it a slight edge over UCLA's four-man class of Jrue Holiday (No. 3), Jerime Anderson (No. 48), Drew Gordon (No. 49) and Malcolm Lee (No. 51). Rivals 10/12
Recruits
If the Crimson Tide could add the two players who visited last weekend — 6-foot-10 J'mison Morgan of Dallas, Tex.,
and 6-9 Xavier Gibson of Dothan — it would be a class to rival the
Dukes and UCLAs of the college basketball world. To get an idea of the
esteem in which Morgan is held by recruiters, he's made four official
trips: Alabama, Kansas, UCLA and LSU. He's trying to pick between
Kentucky and Louisville for his fifth visit. Dateline Alabama 10/9
Since he's been at North Carolina, Williams is still drilling away out West. The current roster boasts three California natives in guard Quentin Thomas and forwards Alex Stephenson and Deon Thompson. The Tar Heels have a commitment from Southern California point guard Larry Drew in the 2008 recruiting class.
Williams isn't closely the pipeline any time soon, either. Twins David Wear and Travis Wear will be in Chapel Hill for North Carolina's midnight madness festivities this weekend. Rivals 10/10
Although I knew there would be a bevy of talent at the camp, I was curious to see if prep phenom 6-9 sophomore Jeremy Tyler (San Diego) would make the trek up north from San Diego to wow fans and scouts alike with his basketball prowess at a Frosh/Soph camp -- and he would.
Tyler demonstrated why he is arguably the No. 1 prospect in the national Class of 2010 as he was head-and-shoulders -- both in height and talent -- above the rest. ESPN 10/10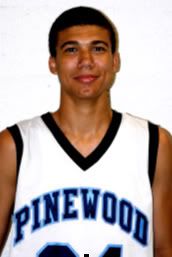 Our No. 59 prospect in the class of 2009, Milton Jennings is a valued prospect as a skilled power forward. Jennings has strong face-up skills and is much more of a "four" – power forward – than he is a "five" – center. In fact, one of the main areas where Jennings could improve is being more physical around the basket. His body still is developing, and he should be able to play the four and the five in college, but at this point, he projects primarily as a four. Rivals 10/12

With committed recruits Ed Davis ('08), Larry Drew ('08) and Kendall Marshall ('10) joining Tar Heel junior targets Dominic Cheek, Mason Plumlee and David Wear and Travis Wear on the front row, Roy Williams even got into the action with some dance moves alongside local musical group Liquid Pleasure. Canes Time 10/12
Tim Floyd is changing the culture of recruiting in Los Angeles,
traditionally a hotbed of prep basketball stars. Where UCLA used to
keep a lot of the local talent and coaches like Roy Williams would
poach elite West Coast prospects to play at Kansas and North Carolina,
a lot of the Southern California talent is looking at USC now. Demar
Derozen, the top-ranked small forward in the 2008 class and a USC
commit, is a good example....Jeremy Tyler, a San Diego resident and elite 2010 prospect, and Los
Angeles resident Renardo Sidney, a top 2009 prospect are also seriously
considering suiting up for the Trojans CSTV 10/13.

As the Midnight Madness contest shenanigans continued, I was able to catch up with Jeremy Tyler, a 2010 power forward who looks like a top-10 prospect in his class. And he sounds real high on USC. The Southern California native, who once lived in Los Angeles and now resides in San Diego, had a lot of good things to say about USC.
On his feelings about USC:
"I love USC. USC's a great school, it's in a great place -- L.A. What could be better than L.A.? A lot of students come and support the basketball team. The studies are real good. I like USC."
On growing up a USC fan and his family connections:
"Always. I always grew up - 'I like the Trojans.' I used to live in L.A. too. My little brother's mom - she goes here. She's getting her doctorate degree. My little brother loves USC. " CSTV 10/13

Monroe and fellow high-profile recruits, senior Renaldo Woolridge and junior Hollis Thompson were present at Friday's Midnight Madness and spent most of the evening together. The trio sat together throughout the night's events and left together after the festivities.
They offered similar assessments of Georgetown....Thompson, a lanky small forward from Los Angeles had similar words for Midnight Madness, saying he was impressed but still taking in the recruiting process and had not yet reached a decision. The Hoya 10/13
Labels: Prep News Roundup