UCLA Finalizes 2007-08 Men's Basketball Schedule
The UCLA Athletic Department has finalized its men's basketball schedule for 2007-08, which is highlighted by 26 televised games on five different networks, including the possibility of two more games to be televised.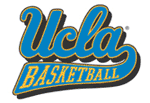 The Bruins will make 13 appearances as part of the Pacific-10 Conference's television package with Fox Sports Net; eight national or regional telecasts on FSN, three on CBS and one each on ABC and ESPN. UCLA has two additional opportunities for exposure when wildcard selections are announced on Feb. 25, 2008.
In addition to the Pac-10's FSN package, eight more games will be televised locally as part of the Bruins' package on FSN Prime Ticket and FSN West in Los Angeles.
Additionally, the Bruins will make four more appearances on the ESPN family of networks in conjunction with the CBE Classic on Nov. 12-13 and Nov. 19-20 (ESPN2 or ESPNU).
KCAL will be televising the Wooden Classic contest against Davidson in Honda Center on Dec. 8.
UCLA, the defending back-to-back regular season Pac-10 champion, opens defense of its conference crown in early January at Stanford (Jan. 3). The 2008 Pac-10 Tournament, featuring all 10 teams, will once again be held at the Staples Center in downtown Los Angeles (March 12-15).
While all but one game time has been set, the schedule is tentative and subject to change.

Tentative 2007-08 UCLA Men's Basketball Schedule
Date/Opponent/TV/Time
Fri., Nov. 2 Azusa Pacific (Exhibition) uclabruins.com 7:30 pm
Mon., Nov. 5 Chico State (Exhibition) uclabruins.com 7:30 pm
Fri., Nov. 9 Portland State uclabruins.com 7:30 pm
Mon., Nov. 12 CBE Classic
Weber State vs. Cal State San Bernardino 5:15 pm
UCLA vs. Youngstown State ESPN2 8:00 pm
Tue., Nov. 13 CBE Classic
Preliminary Consolation 4:45 pm
Preliminary Final ESPN2 7:30 pm
Mon., Nov. 19 @CBE Classic Semifinal ESPN2/U 6/8:30 pm CST
(Sprint Center, Kansas City)
Tue., Nov. 20 @CBE Classic Final ESPNU/2 6:45/9:15 pm CST
(Sprint Center, Kansas City)
Fri., Nov. 23 Yale uclabruins.com 7:30 pm
Wed., Nov. 28 George Washington FSNPT 7:30 pm
Sun., Dec. 2 Texas in Pac-10/Big 12 Series *FSN/FSNPT 5:00 pm
Sat., Dec. 8 Davidson KCAL 2:30 pm
@ Wooden Classic (Honda Center)
Dec. 10-14 Finals Week
Sat., Dec. 15 Idaho State FSNW 5:00 pm
Tue., Dec. 18 Western Illinois uclabruins.com 7:30 pm
Sat., Dec. 22 @ Michigan CBS 2:00 pm ET
Sat., Dec. 29 UC Davis FSNPT 4:30 pm
Thu., Jan. 3 @ Stanford *FSN/FSNPT 7:30 pm
Sat., Jan. 5 @ California *FSN/FSNPT 3:00 pm
Thu., Jan. 10 Washington FSNPT 7:30 pm
Sat., Jan. 12 Washington State *FSN/FSNPT 11:30 am
Sat., Jan. 19 USC CBS 12:30 pm
Thu., Jan. 24 @ Oregon *FSN/FSNPT 7:30 pm
Sat., Jan. 26 @ Oregon State FSNPT 8:00 pm
Thu., Jan. 31 Arizona State FSNPT 7:30 pm
Sat., Feb. 2 Arizona ESPN 6:00 pm
Thu., Feb. 7 @ Washington State *FSN/FSNW 7:30 pm
Sun., Feb. 10 @ Washington *FSN/FSNPT 1:30 pm
Sun., Feb. 17 @ USC *FSN/FSNPT 7:00 pm
Thu., Feb. 21 Oregon State FSNW 7:30 pm
Sat., Feb. 23 Oregon ABC 12:30 pm
Thu., Feb. 28 @ Arizona State FSNPT 8:30/9:00 pm MT
Sun., Mar. 2 @ Arizona CBS 2:00 pm MT
Thu., Mar.6 Stanford WC 8:00 pm
Sat., Mar. 8 California WC TBD
Mar. 12 - Mar. 15 Pac-10 Tournament @ Staples Center, Los Angeles, CA
Mar. 20 - Mar. 23 NCAA First and Second Round
Mar. 27 - Mar. 30 NCAA Regional
Apr. 5 & Apr. 7 NCAA Final Four
------------------------------------------------------------------------------
All times Pacific
All games broadcast on AM 570 (KLAC) and the Bruin Network
*FSN/FSNW – Pac-10 National or Regional game on FSN West in Los Angeles
*FSN/FSNPT – Pac-10 National or Regional game on FSN Prime Ticket in Los Angeles
FSNPT – FSN Prime Ticket in Los Angeles
FSNW – FSN West in Los Angeles
WC – Wildcard selections to be chosen on Feb. 25
(UCLA Press Release)
Labels: Team Misc News