Mbah a Moute Leads Cameroon To Silver Medal Finish
By Bruin Basketball Report
UCLA junior Luc Richard Mbah a Moute helped lead a youthful Cameroon squad to a silver medal finish in the FIBA Africa Championship held in Angola.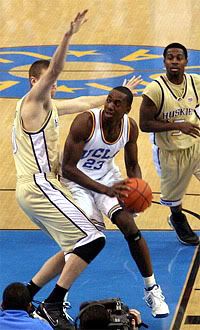 Mbah a Moute sparkled in the semifinal game against Egypt by going for 20 points and 9 rebounds in a 58-52 victory to advance to the championship game.
In the finals, defending champion Angola defeated the upstart Cameroonians 86-72 to win the FIBA Africa championship and receive an automatic bid to the 2008 Olympics in Beijing China.
Mbah a Moute played in 5 of the 6 contests and started the final three games of the tournament. He averaged 13.2 points, 6.8 rebounds, 3.2 assists while shooting 48.6% from the field. He was 3 of 10 from three-point distance.
The Bruin forward has been a standout defender and rebounder at UCLA during his first two seasons. With the graduation of All-American guard Arron Afflalo, Mbah a Moute will be looked upon this upcoming season to expand his offensive repertoire and perhaps play major minutes at the wing position for Ben Howland's Bruins.
Last season at UCLA Mbah a Moute averaged 8.2 points and 7.4 rebounds per game while shooting 49.2% from the field.
(photo credit: Jack Rosenfeld)
Labels: Bruin Player News (Current)