Jrue Holiday Verbally Commits to UCLA
By Bruin Basketball Report
Jrue Holiday of Campbell Hall High School in North Hollywood verbally committed to the UCLA basketball program today.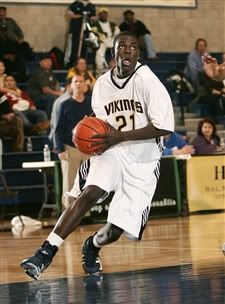 Holiday, a 6'3 180 lb guard, averaged 23.1 points, 9.4 rebounds, 6.4 assists, and 4.2 steals a game in leading his team to the state Division IV championship last season.
He also shot 57% from the field and 42% from three point distance. He scored a season-high 38 points against La Canada in a state playoff game last season.
An athletic and powerful perimeter player, Holiday makes even tough plays look effortless and has been compared favorably to former Bruin guard Baron Davis.
While he shoots very well from the perimeter, he also has the ability to penetrate and finish strong at the basket. Holiday is also an outstanding perimeter defender and should fit well into UCLA Coach Ben Howland's offensive and defensive schemes.

Holiday has been rated by most experts as the No.1 shooting guard in the nation and one of the top players in in his recruiting class.
His mother stated that her son's decision to play at UCLA was based on his own desire to play collegiate ball close to home and in front of family and friends.
One of the most sought after players in his class, Holiday narrowed his
list of potential schools to just UCLA and Washington last month. His older brother and teammate
at Campbell Hall, Justin, will play for the Huskies next season, and
some thought the younger Holiday might follow him up north. But at the
end, the chance to play close to home and play for a team that has
played in two consecutive Final Fours were too much of an opportunity to pass up.
Holiday's commitment gives UCLA four players in the top 50 of most high school player rankings and arguably one of the best 2008 recruiting classes in the nation. Already committed from the class are two other perimeter players in Malcolm Lee from (Riverside North HS) and Jerime Anderson (Canyon HS). The fourth member of the class is 6-9 center Drew Gordon (Archbishop Mitty).
Holiday plays both point and shooting guard positions and should see time at both spots at UCLA. He has played alongside close friend Jerime Anderson in AAU ball for a number of years
(photo credit: Max Preps)

Labels: Recruiting Misc News