Afflalo Leads Pistons in Summer League Opener
By Bruin Basketball Report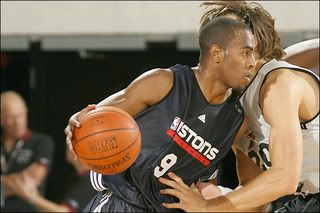 In his first professional game, NBA rookie Arron Afflalo sparked the Detroit Pistons to a 91-89 victory over the Philadelphia 76ers in Las Vegas Summer League action yesterday.
Afflalo scored five points over the final two minutes of the fourth
quarter to help rally the Pistons and force an overtime period.
In the shortened two-minute overtime, Afflalo hit a three-pointer
and then assisted on the game winning shot by fellow rookie Sammy Mejia.
"€œI knew they were going to double Arron, he had just made two
shots,"€ Mejia explained about the game-winning shot. "I just tried to
give him space to create. He penetrated and kicked it out, gave me a
great pass and I was able to make the shot."
Not surprising to Bruin fans, Afflalo's presence was also noticed on the defensive end. When 76er's point guard Louis Williams started rolling in the fourth quarter - he finished with 32 points - Afflalo asked the coaches to be switched onto him. On the final possession of regulation, Afflalo's one-on-one perimeter defense forced Williams into a desperation airball.
"He took the challenge,"€ Piston's Summer League Coach Terry Porter said. "He came to me and said he wanted
to guard him. That'€™s one of his strong points. He has to be able to
guard at this level. He'€™s going to get better and better as he learns
the angles, but I think he has a knack for that."
"I want to win every game," Afflalo said. "I don't care what I'm doing.
Regardless, I want to win every time. It felt like the Final Four to
me."
Afflalo finished with 14 points on 5 of 13 shooting in 31 minutes. Fellow Piston first-rounder Rodney Stuckey also scored 14.
"€œI didn'€™t have a great first half," Afflalo said. "I bounced back a
little bit and found my rhythm in the second half. I calmed down a
little bit."€
NBA Summer League in Las Vegas runs through July 15.
(photo credit: NBA)

Labels: Bruin Player News (Former)