Coach Ben Howland's Camp Back June 25-29
By Steve Galluzzo , Sports Editor
Palisadian Post
Fresh off leading UCLA's men's basketball team to its second consecutive Final Four, Head Coach Ben Howland will be back at Palisades High June 25-29 for his youth basketball camp, which gets his juices flowing almost as much as March Madness.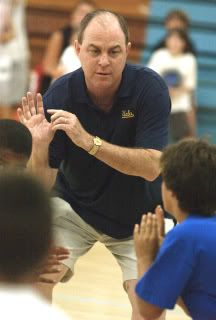 "I love working with the kids and I'm happy to be coming back to the Palisades," the Bruins' master motivator said. "Especially since I found out that [legendary UCLA Coach] John Wooden used to run his camps there too."
Howland and his staff are delighted to have access to the small gym, which was being repaired during last year's camp. He also hopes to have some of his players give demonstrations. Last year, sophomores Luc Richard Mbah a Moute and Darren Collison dazzled their young admirers with impressive shooting and dribbling exhibitions.
Entering his fifth season in Westwood, Howland has the Bruins poised for another run at the PAC 10 title with incoming freshmen Chace Stanback, L.A. City player of the year for state champion Fairfax, and 6' 10' center Kevin Love, one of the nation's top recruits. Love was born in Santa Monica and his parents, Stan and Karen, used to live in the Palisades.
"I was happy with our year but disappointed with the finish," Howland said of the 2006-07 campaign, in which UCLA lost to defending national champion Florida in the semifinals of the NCAA tournament. "This is my dream job. This is where I want to be."
Howland was happy to see the Bruins, under the guidance of Palisades High boys varsity coach James Paleno, win the PAC 10 division (8 & 9-year-olds) at last year's camp and is eager for a repeat. "Coach Paleno does a wonderful job with his players and he was a great help at our camp," Howland said. "He was coaching UCLA so of course I was rooting for him."
Open to boys and girls ages 6-14, Howland's camp offers five days of specialized instruction with an emphasis on the fundamentals essential to a developing player's game, including rebounding, ball-handling, passing individual defense, free throw shooting and jump shooting. Each day, campers will get to apply these skills in three-on-three and five-on-five games. The camp starts at 8:15 a.m. and lasts until 3 p.m. with a 45-minute lunch break beginning at 11:30 a.m.
Over 100 kids have signed up already and space is still available. Cost is $325 per player. Visit www.camphowland.com for more information. To enroll, call (310) 467-8488, fax (310) 206-3440 or e-mail info@camphowland.com.
(reprinted with permission)
(photo credit: Rich Schmitt /Staff Photographer)
Labels: Coach Ben Howland