Arron Afflalo Drafted By Detroit Pistons in 1st Round
By Bruin Basketball Report
UCLA's Arron Afflalo was selected as the 27th overall pick in the first round by the Detroit Pistons in the 2007 NBA draft.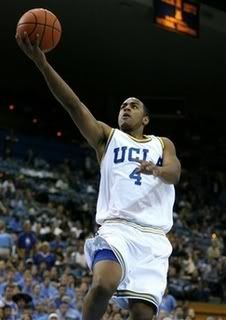 "The shock definitely came because I hadn't worked out for the team so I wasn't expecting to hear my name at that particular point and time," Afflalo said. "I know my work ethic and I know what kind of basketball player I want to be and I'm blessed to have this opportunity. I've put a lot of hard work into this and I'm ready to put in even more. When you talk about Detroit Piston basketball, the first thing that comes to mind is mental and physical toughness and a desire to get better and I think those are my strongest qualities."
Afflalo chose to leave for the NBA after his junior year. He averaged 16.9 points on 46.1% shooting last season.
"I'm really excited for Arron and his family," UCLA Head Coach Ben Howland said. "He's worked very hard and this is a lifelong dream of his," said Bruin head coach Ben Howland. "I can't think of anybody more deserving than Arron to be a first-round draft pick in the NBA. He's going to a great franchise with an outstanding team and an opportunity to be a part of something really special."
For the second consecutive year, a UCLA Bruin has been chosen in the first round. Afflalo's backcourt mate, Jordan Farmar was selected by the Los Angeles Lakers in the first round 26th overall in the 2006 draft.
As a result of being selected in the first round, Afflalo will receive a guaranteed two-year NBA contract worth close to a million dollars per season.
Afflalo joins a defensive-oriented professional team in Detroit. No doubt, Piston's general manager Joe Dumars, a tough defensive-minded shooting guard during his own playing days in Detroit, appreciates Afflalo's talents on both ends of the court.
Congratulations Arron!
Detroit Pistons Draft Press Conference (video)
(photo credit: AP)
Labels: Bruin Player News (Former)