Afflalo Skips Camp, Works Out For Teams
By Brian Dohn
Los Angeles Daily News
(reprinted with permission)
Former UCLA All-American guard Arron Afflalo
didn't attend the NBA's pre-draft camp in Orlando, but he was in town
and worked out for several teams before heading back to Los Angeles on
Tuesday night.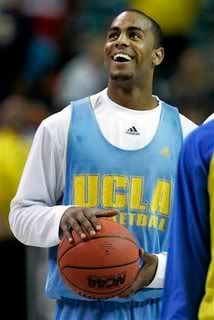 Afflalo's agent, Sam Goldfeder, said the former UCLA star
either worked out or will work out for the Lakers, Houston, Phoenix,
Philadelphia, Utah, San Antonio and Seattle in preparation for the June
28 draft.
Goldfeder said it was too early to determine if Afflalo,
projected as a second-round pick in many mock drafts, could work his
way into the first round. But Goldfeder added Afflalo's on-court
accomplishments, highlighted by leading UCLA to consecutive Final Four
appearances, was reason to decline an invitation to the pre-draft camp.

"His body of work speaks for itself," Goldfeder said. "He's been seen by NBA (scouts). There was no real reason for it."

Afflalo's
father, Benjamin, said Arron wanted to use the individual team workouts
to demonstrate skills he was not asked to use while at UCLA.
"Everybody knows who he is, which is a big thing ... his
character, sensibility and everything," Benjamin Afflalo said. "During
the workouts he wants to showcase more of his game then he showed at UCLA, when he played in a system."
...

Carlson UCSD finalist: UCLA director of basketball operations Chris
Carlson is the leading candidate for the vacant UC San Diego men's
basketball head coaching job, but an announcement about the job may not
be made until after the weekend, sources said.
Carlson, who is from San Diego, interviewed for the position at the Division II school three years ago as well.
(photo credit: AP)
Labels: Team Misc News