UCLA Wins 100th NCAA Title!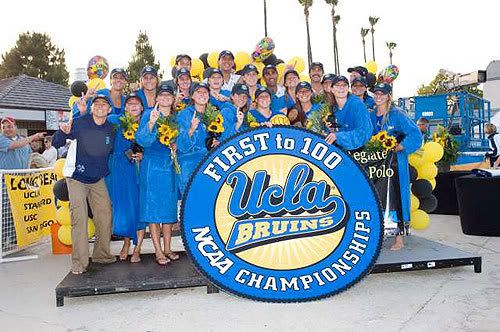 UCLA became the first
school in history to win 100 NCAA team championships. The Bruins
reached the amazing total on Sunday, May 13 when they captured the
team title in women's water polo, defeating Stanford, 5-4.
The women's water polo crown is UCLA's first of the 2006-07 school
year. The Bruins were also '06-07 NCAA Final Four participants in men's
basketball men's soccer, women's volleyball and women's soccer and
placed fourth in women's gymnastics.

"Reaching 100 team championships is a testament to the
outstanding abilities of our student-athletes and their coaches. We
salute them and the dedicated fans who have supported them over the
years," said Norman Abrams, UCLA's Acting Chancellor, "and we celebrate
the teamwork that is the hallmark of UCLA athletics and our strong
tradition of combining excellence in athletics with excellence in
academics."

UCLA has won 70 NCAA championships in men's sports and 30 in
women's sports. Sixteen different programs - nine men and seven women -
have won at least one NCAA team championship. In the 26 years that the
NCAA has awarded both men's and women's championships, UCLA has won 60
NCAA team titles (30 men's and 30 women's), including at least one in
24 of those 26 years.

"To be the first school to win 100 NCAA team championships is a
great tribute to all of the outstanding student-athletes, coaches and
support staff who call UCLA home," said Daniel G. Guerrero, UCLA
Director of Athletics. "UCLA has a rich athletic history and it is
important to remember and celebrate those who built the foundation and
earned the early championships as well as those who have contributed to
the recent successes.

"Our mission at UCLA is to provide our coaches and
student-athletes with the resources necessary for success and to have a
broad-based program that is nationally-competitive in every sport. In
the last five years (2002-03 through 2006-07), our coaches and
student-athletes have won 14 NCAA championships in nine different
sports (as of May 13, 2007) and have finished in the Top Five in
numerous others. We will continue to strive for success in all of our
sport programs."

UCLA will celebrate the 100 NCAA championships throughout the
2007-08 school year with presentations of former-student athletes and
coaches representing the championship teams at various athletic events,
including football and men's basketball.

In addition, UCLA has produced a special "First to 100" logo
that will be placed on various sport uniforms as well as on printed
materials during the upcoming school year.

UCLA won its first NCAA team title in 1950 in the sport of
men's tennis. In fact, seven of UCLA's first eight titles were in men's
tennis, the other coming in men's track and field.

In 1964, UCLA's NCAA title explosion began. In the ensuing six
years, it won seven more NCAA championships, including five in men's
basketball. In each of the next three years - 1969-70 through 1971-72,
UCLA won four team championships - and added three more in 1972-73. In
that four-year span, the Bruins won four titles in basketball, three
each in men's water polo, men's volleyball and men's track and field
and two in men's tennis.

As the 1980s began, UCLA had earned 39 NCAA team championships.
In 1981-82, the NCAA began awarding championships in women's sports in
addition to men's and UCLA's successful women's program began
contributing to the title count. That first year, UCLA won five NCAA
titles, three in men's sports and two in women's sports.

As the 1989-90 school year began, UCLA had increased its total
of championships to 62, giving the school 23 in the previous decade. By
the end of the 1998-99 school year, the total had increased to 79.

Since the start of the 1999-2000 academic year, UCLA has captured 21 championships, pushing the total to 100.
(UCLA Athletic Department)

Labels: UCLA History