Jrue Holiday Narrows Choice To UCLA, Washington
By Eric Sondheimer
Los Angeles Times
[reprinted with permission]

Campbell Hall's 6-foot-4 junior guard, ranked as No. 2 basketball prospect in nation, will decide later this summer. His brother, Justin, signed with Huskies in November.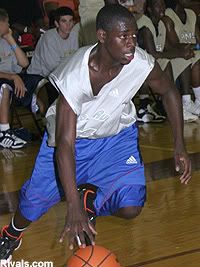 Jrue Holiday, a 6-foot-4 junior guard at North Hollywood Campbell Hall
who is ranked as the No. 2 basketball prospect in the nation by one
recruiting service, has narrowed his college choices to UCLA and
Washington, his mother, Toya, said Thursday.

Holiday, who led Campbell Hall to the Division IV state championship in
March, has remained silent for months about his college plans, but his
mother said he told her this week that UCLA and Washington were his
final two.

He will be taking an unofficial visit to Washington on June 10.
Holiday's brother, Justin, signed with the Huskies last November and
will be a freshman this fall. Holiday has yet to make a visit,
unofficial or official, to UCLA, but Toya Holiday said she plans to
contact Bruins Coach Ben Howland to arrange one.

Washington and UCLA recently engaged in a spirited recruiting battle
for 6-9 Drew Gordon of San Jose Archbishop Mitty until the junior
announced Monday that he had committed to UCLA.

Holiday is expected to announce his decision later this summer.
(photo credit: Rivals.com)

Labels: Recruiting Misc News