Ryan Wright To Transfer From UCLA
By Bruin Basketball Report
UCLA men's basketball coach Ben Howland announced today that 6-foot-8-inch sophomore forward/center Ryan Wright will not be returning for next season. Wright, from Mississauga, Ontario, Canada will transfer to play his final years at another school.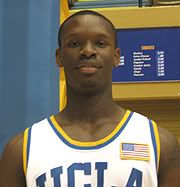 Wright will leave UCLA after the spring semester and hasn't made a decision as to where he will transfer.
"Ryan is an outstanding young man and we appreciate what he has done for this program over the past two years," Howland said. "He worked hard everyday, showed great improvement and was an important part of our run to back-to-back Final Four appearances. We wish him nothing but the best.
"He will stay a part of the team and continue to work out with his coaches as well as his teammates during the spring. He will always be a part of the Bruin family and we appreciate all of his efforts over the past two years."
Wright averaged 1.3 points and 0.9 rebounds per game while appearing in 28 of the 36 games without making a start during the 2006-07 season. He played in 150 minutes (5.4 minutes per game) while shooting 58.3 percent (14-for-24) from the field on the year.
"After speaking with my family and thinking about it for a long time, I feel that at this point in my career, the best thing for me to do is to explore other opportunities," Wright said. "The coaching staff has helped me improve as a player and grow as a man and I am thankful to them for that. My teammates made me feel at home and I have a lot of great memories from my time here at UCLA."
(Press Release)
Labels: Bruin Player News (Current)