UCLA vs. Florida - Tournament Game Preview
By Bruin Basketball Report
UCLA continues its quest for a 12th national men's basketball championship on Saturday when it meets the Florida Gators in the semifinals of the Final Four at the Georgia Dome.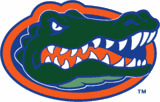 It is the Bruins second consecutive trip and seventeenth overall appearance in a Final Four.
Standing in their way of advancing to the title game are the Florida Gators led by Coach Billy Donovan. The Gators trounced the Bruins, 73-57, in last year's championship.
Entering the NCAA tourney as the defending champions and No.1 overall seed, the Gators are a formidable and experienced team, returning all five starters from last year. They aim to become the first repeat college basketball champions since the 1991-1992 Duke Blue Devils.
After playing well for most of the season, the Gators struggled towards the end, losing three of their last four regular season games. However, they
rebounded to sweep through the SEC conference tournament and victories through the first four rounds of the NCAA tourney.
Florida averages 79.8 points a game while shooting a nation's best 52.7% from the field. They also shoot an impressive 40.5% from three-point distance. The Gators have a balanced offensive attack. All five of their starters average in double figures, yet all
are within 2.4 shot attempts of each other and none attempt more than
10 field goals a game.
The Gators have a formidable front line of big athletic players in 6'9 Corey Brewer, 6'10 Al Horford, and 6'11 Joakim Noah who are difficult match-ups for any team. In addition, they have an effective backcourt tandem in Taurean Green who is excellent off the dribble and Lee Humphrey, a deadly three-point shooter averaging 45.5% from beyond the arc.
While teams have to be concerned with Florida's offense, they have an equally tough defense. The Gators allow just 62.2 points a game while allowing just 40.6 field goal shooting. The are excellent on the boards, out-rebounding teams by a margin of 8.2 a game (4th best in the nation).
| | | | | | | | | |
| --- | --- | --- | --- | --- | --- | --- | --- | --- |
| PLAYER | POS | HT | WT | YR | MIN | PTS | REB | AST |
| Taurean Green* | G | 6-0 | 177 | Jr. | 33.1 | 13.3 | 2.3 | 3.6 |
| Al Horford* | F-C | 6-10 | 245 | Jr. | 27.7 | 13.2 | 9.2 | 2.1 |
| Corey Brewer* | F | 6-9 | 185 | Jr. | 28.4 | 13.1 | 4.7 | 3.1 |
| Joakim Noah* | F-C | 6-11 | 232 | Jr. | 25.8 | 12.2 | 8.5 | 2.3 |
| Lee Humphrey* | G | 6-2 | 192 | Sr. | 30.0 | 10.1 | 1.3 | 1.3 |
| Chris Richard | F-C | 6-9 | 255 | Sr. | 18.3 | 5.9 | 3.6 | 0.4 |
| Walter Hodge | G | 6-0 | 170 | So. | 18.0 | 5.8 | 1.2 | 1.5 |
| Dan Werner | F | 6-7 | 235 | Fr. | 9.1 | 1.8 | 1.3 | 0.8 |
*denotes probable starter
UCLA returns a different team that faced the Gators last season. Gone are starters Jordan Farmar, Cedric Bozeman, and Ryan Hollins, and in their place are Darren Collison, Josh Shipp, and Lorenzo Mata. This year's Bruins are quicker on the defensive perimeter, score more points in transition, and tougher defensively in the paint.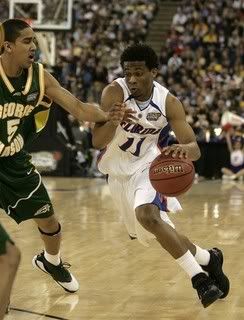 The point-guard match-up will be one of the keys to the game.
Last year UCLA Coach Ben Howland assigned 6'6 Cedric Bozeman to handle point-guard Taurean Green, but Florida cleverly spread the court on offense which allowed the quicker Green to dribble drive past Bozeman for a game-high eight assists with many of the baskets resulting in slams by Horford and Noah.
The Bruins will benefit from having speedy Darren Collison, their best on-ball defender, to put on Green on Saturday. Collison needs to aggressively pressure Green on the perimeter to make it difficult for him to set-up the offense or make post-entry passes.
Against Kansas, Collison's defensive pressure on the Jayhawks' guards forced them to set-up their offense further out than they were normally used to, he'll need to do the same against the Gators in order to slow their attack and negate their size advantage inside.
With Florida's Lee Humphrey sizzling from beyond the arc, Josh Shipp needs to do a good job closing out on Humphrey at the three-point line. Shipp has been playing well on the defensive end during the tournament and the Bruins will need another solid effort.
Offensively, he gives UCLA the third scoring option they lacked last year. Shipp is shooting 42.5% from three-point distance and has been excellent in transition. In addition, his ability to drive to the basket and finish will make him a difficult match-up for Florida, especially for the smaller Humphrey.
Last year Corey Brewer used his size and length to hound Arron Afflalo into a sub-par 3-10 shooting performance. But with Afflalo scoring more effectively off the dribble, as he showed against Kansas, and Shipp available as another scoring option, Florida will be more challenged on the defensive end. Can Humphrey guard the more physical Shipp? Or does Florida switch Brewer onto Shipp instead of Afflalo?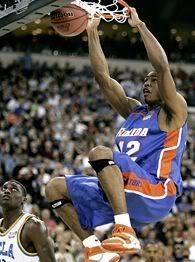 Along the front line, Al Horford has been a beast in the low blocks all season. He is averaging 13.2 points and 9.2 rebounds per game while shooting 61.8% from the field. He is the team's best low-post scorer and has overpowered opponents throughout the tourney.
UCLA's Lorenzo Mata and Alfred Aboya are as tough a pair of players down low as they come. If they both can stay out of foul trouble, their combined minutes and physicality might be able to wear Horford down by game's end.

Florida's Joakim Noah ran wild on the Bruins in last year's game. On defense his shot-blocking intimidated the Bruins inside, while his ability to run the floor and pass to the open man keyed the Gator offense. Luc Richard Mbah a Moute will likely guard Noah for most of the game and needs to match Noah's intensity on the floor, at least on the defensive end. He'll also need to keep Noah off the offensive boards
Last year Coach Ben Howland's defensive strategy of doubling the post was ineffective against Florida, but it was mostly due to the Bruins' slow rotation from the weak side. Expect UCLA to double down on the lost post again, especially against Horford, but do a better job this time of mixing the coverage and timing of the double.
Its not very often two teams get the opportunity to face each other in two consecutive Final Fours. While Florida will be seeking a place in history with back-to-back titles, the Bruins will not only be seeking a chance to play for the championship again themselves but some redemption from last year's game as well.
This is what March Madness is all about. Let's tip it off.
BBR Notes: The UCLA-Florida game is scheduled to start at 5:45PM PDT.
(photo credit:AP)
Labels: Game Previews (Tournament)