UCLA Superlative Statistics 3/30
By Bruin Basketball Report
College basketball fans are familiar with published statistics such
as rebounds, assists, points scored, and field goal and free throw
percentage as a marker of a player's performance and contribution to
his team.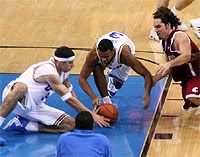 Those
who follow UCLA basketball and know the value Head Coach Ben Howland
places on hustle, toughness, and performance under pressure will
appreciate a different set of statistics kept by the team. Statistics
referred to as the "Superlative Statistics".
Charges Taken
1. Alfred Aboya - 21
2. Lorenzo Mata - 17
3. Russell Westbrook - 4
4. Ryan Wright - 3
4. Luc Richard Mbah a Moute -3
UCLA 49, Opponents 29
Dives For Loose Balls
1. Lorenzo Mata - 24
1. Luc Richard Mbah a Moute - 24
3. Darren Collison - 17
4. Russell Westbrook - 12
UCLA 123, Opponents 86
Second Chance Points
1. Luc Richard Mbah a Moute - 80
2. Josh Shipp - 68
3. Lorenzo Mata - 57
4. Arron Afflalo - 54
5. Alfred Aboya - 41
UCLA 370, Opponents 298
Points in the Paint
1. Josh Shipp - 212
2. Lorenzo Mata - 180
3. Luc Richard Mbah a Moute - 178
4. Arron Afflalo - 150
5. Darren Collison - 146
UCLA 1082, Opponents 836
3-PT Plays Attempted
1. Josh Shipp - 13
1. Arron Afflalo - 13
3. Darren Collison - 10
4. Lorenzo Mata - 6
UCLA 58, Opponents 54
FT% Last Four Minutes in Game (more than 2 attempts)
1. Josh Shipp - 28 of 33 (.848)
1. Arron Afflalo - 28 of 33 (.848)
3. Darren Collison - 34 of 43 (.791)
4. Alfred Aboya - 5 of 7 (.714)
UCLA 117 of 155 (.755), Opponents 76 of 110 (.691)
Last Second Shot Percentage
1. Arron Afflalo - 4 of 6 (.667)
2. Darren Collison - 4 of 7 (.571)
3. Josh Shipp - 1 of 3 (.333)
UCLA 9 of 20 (.450), Opponents 4 of 10 (.400)
Control the Tip
1. Lorenzo Mata - 20 of 36 (.556)
Source: UCLA Athletic Department (3/30/07)
(photo credit: Jack Rosenfeld)
Labels: Team Misc News