Afflalo Named To AP All-America Team
By Bruin Basketball Report
UCLA junior Arron Afflalo was named to the Associated Press' 2007 All-America team.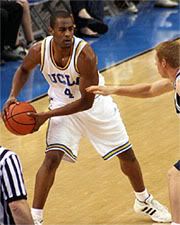 The last time a Bruin was featured on a first-team
All-American roster was in 1995 when Ed O'Bannon led the UCLA to it last national title.
The junior guard hopes to accomplish a similar feat this weekend as he leads his team into a semifinal game against Florida on Saturday with the winner advancing to the championship game on Monday.


"I am very happy about it. But again this is a team sport and I am
focused on this upcoming weekend," Afflalo said. "I haven't really
thought about it too much. I am after one thing and these individual
honors come because of that."
Afflalo is averaging 16.9 points a game and is considered one of the best defenders in college basketball. The
6-foot-5 guard was earlier named the Pacific-10 Conference Player of the Year.
He is joined on the All-America team by Kevin
Durant (Texas), Alando Tucker (Wisconsin), Acie Law
(Texas A&M), and Greg Oden (Ohio State). Durant and Oden were the first
freshmen honored since 1990.
"I am very excited for Arron," UCLA coach Ben Howland said. "He
is a great representative of UCLA and UCLA basketball as well as
college basketball.
(photo credit: Jack Rosenfeld)
Labels: Bruin Player News (Current)