UCLA No.1 in Polls, Move to No.1 in RPI
By Bruin Basketball Report
With a sweep of the Washington schools last week at home, the UCLA Bruins retained their hold of the No.1 ranking in both the AP and ESPN/USA Today Coaches national polls.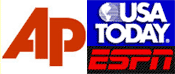 The Bruins received all but one first-place in the AP poll but were a unanimous No.1 selection in the Coaches poll.
In addition, UCLA has the No.1 RPI rating (Rating Percentage Index) and has played the 2nd toughest schedule (SOS) in the nation according to the Ken Pomeroy RPI ratings.
Last week UCLA disposed of Washington St. 55-52 in a tough Pac-10 opener, and then routed rival Washington on Sunday, 96-74.
After losing both their games last week, the Washington Huskies dropped to No.24/No.20. The Arizona Wildcats remained No.7 in both polls while a fourth Pac-10 team, Oregon, is ranked No.16/No.17
West Virginia, an upcoming non-conference UCLA opponent, recently moved up to No.25 in the AP poll and is on the cusp of joining the top-ranked in the Coaches poll.
In their first road trip of the season to a visitor's gym, the Bruins face the Oregon St. Beavers (8-6, 0-1) on Thursday and then travel to Eugene to play the undefeated Oregon Ducks (13-0, 1-0) on Saturday.
Labels: Polls and Rankings