UCLA Holds Steady in Polls, Still No.2 in SOS
By Bruin Basketball Report
With a sweep of both Arizona schools last week, UCLA maintained its No.2 ranking in the USA/ESPN Coaches and No.3 in the AP polls.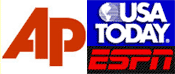 In the all important RPI ranking, the Bruins continued their grip on the No.1 position, and still ranked as playing the No.2 toughest strength of schedule (SOS) in the nation.
It was easy for detractors of the Bruin's schedule to pick on UCLA's choices of opponents during some of the early non-conference games, but when all is said and done, the Bruins will have faced one of the toughest schedules in the nation.
In contrast, the defending NCAA champions, Florida Gators, are ranked No.1 in both national polls but carry only a No.29 RPI rating and a SOS rating of No.113. A tough SEC conference will improve Florida's SOS, but at the end of the season it still will not be anywhere close to UCLA's tough SOS rating .
In the AP and Coaches polls, of the top five ranked teams, only Kansas dropped down after losing to Texas Tech on Saturday. Florida, UCLA/Wisconsin, and North Carolina still occupy their spots in the top five.
In the AP this week USC make its first appearance in the polls this week at No.25 while they are on the cusp of joining the Coaches poll.
Other Pac-10 teams in the polls: Oregon continued its move up the polls, ranking No.7 in both polls; Arizona dropped to No.17/No.19 after being swept in Los Angeles, and Washington State resides at No.20/No.18. In addition, Stanford received votes in both polls.
Labels: Polls and Rankings