Shipp Injures Hamstring, Will Miss USC Game
By Bruin Basketball Report
Josh Shipp will miss Saturday's game against cross-town rival USC due to a hamstring injury he suffered in the Oregon game.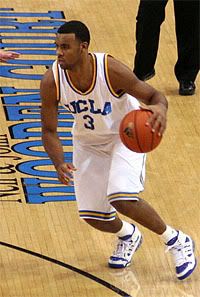 An ultrasound test revealed a slight tear in his right hamstring. Shipp felt tightness in his leg at halftime but toughed it out and hobbled through the remainder of the contest. He finished with 14 points in 35 minutes.
The red-shirt sophomore had injured his right ankle a few weeks ago which limited his practice time and conditioning. Against the Washington Huskies, Shipp developed severe leg cramps and had to leave the game early for treatment. UCLA Coach Ben Howland believes the hamstring is a manifestation of the earlier leg injuries.
"He wants to play, of course," Howland said, "but I'm very worried about this becoming something that can get worse. Hamstrings are very, very tough injuries because you always run the risk of tearing it worse."
"We have to look at the long term," Howland said. " I don't want to see this turn into a thing where he's going to be out for three weeks, a month, two months. Its a long season and we want to treat this injury conservatively."
Shipp sat out last season due to a hip injury which required surgery, but returned strong this season and has been a key to the Bruins fast start.
Paired with Arron Afflalo this season, the two give the Bruin offense a potent scoring option on both wings. Shipp is the team's second-leading scorer with 14.7 points while shooting 46.7% from the field and is third in rebounds with 4.1 caroms a game.

"It's definitely tough. I mean, this is our rival game," Shipp said. "I really wanted to give it my all and try to go out there and play, but I just can't do it."
Howland indicated Michael Roll would likely start in place of Shipp. In addition, he indicated Luc Richard Mbah a Moute could slide down to play at the three-spot and Russell Westbrook's minutes would increase.
"I thought Russell played great for us on Saturday," Howland said. "I probably should have played him more minutes the way he was playing. He's going to get more time now especially with Josh out."
(photo credit: Jack Rosenfeld)
Labels: Bruin Player News (Current)