Mbah a Moute To Play This Week
By Bruin Basketball Report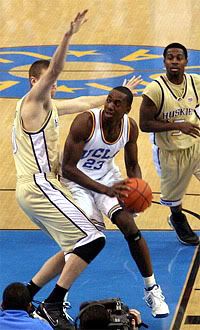 Sophomore forward Luc Richard Mbah a Moute practiced with the team on Wednesday and is expected to play against both California and Stanford this week.
Last Thursday he suffered a right hyper-extended knee injury against Arizona State. The following day after complaining of knee soreness an MRI was conducted and revealed the injury but no structural damage to the joint.
After playing in 56 consecutive games, Mbah a Moute missed his first game ever as a Bruin when he was forced to sit out against Arizona on Saturday.
Mbah a Moute is averaging 9.1 points, 7.9 rebounds, and 2.0 steals in 17 games this season and is hitting on better than 49% of his shots from the field.
(photo credit: Jack Rosenfeld)
Labels: Bruin Player News (Current)