Defense Keys Bruin Rally Against Sun Devils
By Bruin Basketball Report
Sophomore Darren Collison scored 12 of his 16 points in the second half to lead a UCLA rally and defeat the Arizona State Sun Devils, 60-50, before 10,188 at Pauley Pavilion.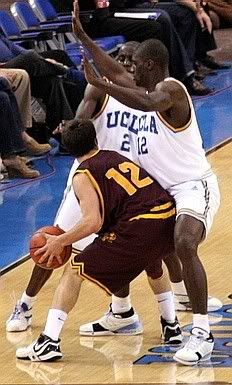 The Bruins (16-1, 5-1) stumbled out of the gates again against an inferior opponent committing five turnovers in the early going and the Sun Devils capitalizing on the miscues by jumping out to a 17-6 lead.
"It was disappointing we let a team come out and jump on us like that," Arron Afflalo said. "We have to do a much better job of being ready to play."
UCLA struggled mightily against Arizona State's 3-2 match-up zone settling for long-range jumpers rather than aggressively attacking the zone with dribble penetration or quick passes to find the open shooter.
In the first half, defensively, the Bruins were slow in their rotations, especially off their double of the high screen resulting in easy lay-ups or kick-outs for open shots for the Sun Devils. In addition, Arizona State was blazing hot shooting 14-23 (58.3%) from the field and 4-7 (57.1%) from beyond the arc in the first half. In contrast, the Sun Devils had entered the game shooting 42.8% from the field and just 30.7% on three-pointers.
UCLA climbed back into the game with a 23-12 run in the first half keyed by the play of Alfred Aboya and Luc Richard Mbah a Moute who each had three offensive rebounds giving their team second chance baskets. As a result, the Bruins had five more shot attempts than the Devils and trailed only 37-34 at halftime despite shooting only 46.4% from the field and 25% (4-16) from three-point distance.
Arizona State was unable to maintain its torrid shooting in the second half shooting just 1-10 from the field to start. Meanwhile, UCLA scored seven straight points to finally take the lead, 41-39, including a reverse dunk by Josh Shipp on a breakaway following a steal.
"On that reverse dunk, I think he wanted to show everybody he was okay," said UCLA Head Coach Ben Howland.
Then Michael Roll and Darren Collison hit consecutive three-pointers to cap off a 16-4 run to put the Bruins ahead for good, 50-41.
The UCLA defense stepped it up a notch in the second-half holding the Sun Devils to just 12 points on 6-21 shooting (28.6%). In addition, Arizona State seemed to tire and was unable to play with the same intensity they started the game.
"I thought we did a better job of not getting beat on some curls," Howland said. "They were screening, and instead of trailing, we went underneath the screens. We did a good job of contesting shots."
For Arizona State (6-12, 0-7), freshman guard Christian Polk was impressive scoring 16 points while Jerren Shipp finished his first collegiate game against his brother with 8 points in 32 minutes off the bench.
One time when Jerren Shipp was at the free-throw line, the UCLA student section started chanting "Josh is better", something Josh Shipp didn't exactly appreciate. "It was a little harsh," Josh said smiling. "He's my little brother."
Both Josh Shipp and Arron Afflalo had off-shooting nights, scoring 12 and 13 points, respectively, and combining for just 3-15 from beyond the arc.
Luc Richard Mbah a Moute finished with only 2 points but he also had a career-high 14 rebounds which included 7 on the offensive end. He helped the Bruins outrebound the Sun Devils 32-22 in the game.
Michael Roll finished with 8 points on 3-6 shooting including 2-5 from three-point distance.
Sophomore Alfred Aboya had another good game off the bench scoring 3 points and grabbing 5 rebounds. He played 26 minutes to Lorenzo Mata's 18 minutes in the game primarily due to the fact Aboya's speed and quickness allowed him to better rotate defensively against Arizona State's spread offense.
UCLA will face Arizona on Saturday. The Wildcats lost their game across town Thursday night, 80-73.
(photo credit: Jack Rosenfeld)
Labels: Game Summaries