Bruins Tame Wildcats, Afflalo Leads The Way
By Bruin Basketball Report
Arron Afflalo scored 22 points on 9-14 shooting to lead the UCLA Bruins to a stunning 73-69 victory over the reeling Arizona Wildcats before a crowd of 12,249 at Pauley Pavilion.
Playing without sophomore dynamo Luc Richard Mbah a Moute, fellow Cameroonian Alfred Aboya started in his place and responded with a career-high 11 rebounds, including 8 in the first-half, to help the Bruins improve their record to 16-1 overall and remain in a first-place tie in the powerful Pac-10 conference.
"I thought Alfred was really strong for us today." Howland said. "No one works harder than Alfred Aboya. He always has such a great attitude."
Meanwhile, Lute Olson's Arizona Wildcats dropped their third straight game and are now in seventh place in the Pac-10 at 4-4. UCLA currently has a four-game winning streak against Arizona.
As expected, the Wildcats played primarily zone throughout the game against UCLA, and except for Afflalo who hit three early three-point shots, the Bruins struggled early falling behind by eight points in the first half.
But the UCLA defense clamped down allowing them the team to go on a 18-4 run to end the half with a 35-29 lead. The UCLA defense held Arizona to just 28.5% shooting and 2-9 from three-point distance in the first-half.
In addition, Howland introduced for the first time this season, a four-guard alignment against the zone with Afflalo,
Darren Collison, Russell Westbrook, and Michael Roll on the perimeter.
The quicker line-up allowed the Bruins to aggressively attack the Wildcat zone at the seams, creating shots off
good interior passing or kick-outs for open jumpers.
"After watching game film we went to four guards a lot today to attack their zone, " Howland said. "That's what's shown the most effectiveness, having four out and
one in and we did a good job of that."
In the second half, the Bruin defense remained solid and the offense continued to pick apart the Wildcat zone.
UCLA point-guard Darren Collison benefited from the four-guard alignment finishing with 12 points and 8 assists.
"I thought we did a much better job of attacking the zone," Collison
said. "We had some problems against Arizona State, just penetrating.
But last night we looked over some film of us attacking the zone and
Coach, he just wanted us to be more aggressive and I thought we did a
much better job of that today."
Collison did an excellent defensive job on Arizona's senior point-guard Mustafa Shakur, holding him to just a single field-goal for most of the game. Shakur finished with 12 points with all but four points coming at the end of the game when the Bruins were trying not to foul and allowing drives to the basket.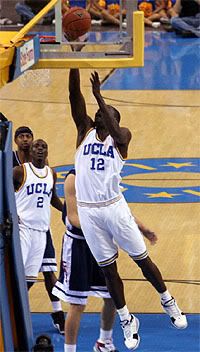 UCLA had extended the lead to twelve points with just under four minutes remaining to play in the game when Arizona began to intentionally foul to stop the clock and send the Bruins to the line.
Michael Roll, who had shot only two free-throws all year, sunk both his free-throws, and so did Aboya who calmly went to the line and confidently swished his pair.
Ironically, it was Afflalo who missed the front end of one-and ones in the final minutes that allowed Arizona back into the game. But with eight seconds remaining, Afflalo made his final free-throw to put his team up by four and seal the game.
Arizona's leading scorer Marcus Williams was held to just 10 points on 2-8 shooting by the suffocating defense of Afflalo. Although he gave up two inches in height, Afflalo never allowed Williams to catch the ball where he liked it on the floor, and when Williams did get the ball, Afflalo forced him to put it on the floor where he coerced him into 4 turnovers.
The Bruin bench contributed 18 points in support of the victory. Michael Roll finished with 13 points on 4-11 shooting in 25 minutes including a key jumper near the free-throw line off a nice shot fake in the second-half.
Freshman Russell Westbrook provided the Bruins with a spark off the bench, attacking the zone with a pull-up jumper from the wing. Westbrook, who always seems to be in attack-mode offensively, gives the Bruins athleticism it lacks at times on the perimeter.
James Keefe played nine crucial minutes in support of Mbah a Moute's absence. In the first half, he confidently hit a three-point shot from straight away and had a nice block on Arizona's Daniel Dillion shot on the baseline, giving fans a glimpse of what Keefe can bring to the team in the near future.
UCLA finished the game shooting 49.1% from the field and 33.3% on three-pointers.
These guys are great , they are unbelievably tough." Howland said. "We got behind today, but we came back every time, and it starts with the leadership on the team, we have great team leaders. We have great kids."
BBR Notes: Luc Richard Mbah a Moute remains questionable for next week's games at California and Stanford.
"He came to me right before the game and said he was feeling a lot
better," Howland said. "We're not going to be doing anything until
Tuesday, but I don't know. I would say it could be another week, you
just don't know until he gets out there and we haven't done anything
yet. But it's not long term."
(photo credit: Jack Rosenfeld)
Labels: Game Summaries