Bruins Predictably Drop in Polls
By Bruin Basketball Report
For the first time in six weeks UCLA (14-1, 3-1) is not ranked atop the national polls. After a split 1-1 record in the state of Oregon last week, the Bruins dropped to No.3 in the ESPN/USA Coaches and No.4 in AP national polls.
While UCLA fall in both national polls it still maintained No.1 rating in the RPI and No.2 in strength of schedule (SOS).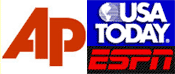 North Carolina moved into the top spot in both polls followed by Florida at No.2. Wisconsin snuck by UCLA to No.3 in the AP while Ohio St. rounded out the top 5 in both polls.
The Bruins suffered their first loss of the season on Saturday losing to the Oregon Ducks 68-66 in Eugene. UCLA's perimeter defense was unable to shut down Oregon's Aaron Brooks who went for 25 points. Moreover, the Bruins struggled against the Ducks zone defense which limited them to just 36.4% shooting and one point production between UCLA stars Arron Afflalo and Darren Collison in the first-half. Despite their struggles, UCLA still managed to have a chance to tie or win in their last possession of the game.
Meanwhile the Ducks' rankings (14-1, 2-1) were relatively unchanged, coming in at No.17 and No.15 spots in the Coaches and AP polls, respectively.
The strength of the Pac-10 this season becomes more evident every week. UCLA Head Coach Ben Howland has maintained five Pac-10 teams should make the NCAA tournament this season - he may need to consider expanding the total of teams making the tourney to six.
Who would have guessed the best time in the state of Washington this season was located in Pullman? For the first time since 1983 the Washington St. Cougars (14-2, 3-1) are in the top 25 ranking with the Coaches ranking them at No.23 and the AP No.22. The Cougars have veteran players and an excellent coach in Coach Tony Bennett. Washington St. will give teams trouble all season with their outstanding defense.
With splits last week, Arizona (12-2, 3-1) dropped to No.8 in the Coaches and No.10 in the AP while Washington (11-4, 1-3) dropped to No.24 in the Coaches but fall completely out of the AP poll.
The Trojans of USC earned points in both polls for the first time this season. If the Trojans continue to improve, or if the Lopez twins at Stanford continue to mature, it certainly wouldn't be surprising to find at least six Pac-10 teams in the tourney.
The Pac-10 conference maintains the top RPI ranking among all Division I conferences and have an overall conference record of 90-22 against Division i teams.
Labels: Polls and Rankings