Bruins Outlast Beavers, 71-56
By Bruin Basketball Report
Josh Shipp scored 18 points to lead five Bruins in double-figures as UCLA defeated the Oregon State Beavers in Corvallis, 71-56.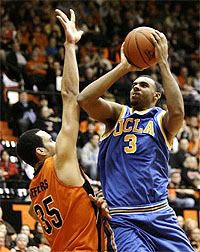 Playing in their first road game to a visitor's gym this season, the Bruins came out very tentative on both ends of the court.
Oregon State started the game in a 2-3 zone defense and UCLA did not attack it well. Many times the Bruins forced ill-advised passes inside which resulted in turnovers or were timid in taking perimeter shots over the top of the zone
As a result, UCLA missed eight of its first ten shots and did not score a basket until two minutes into the game when forward Josh Shipp finally buried a three-pointer.
The Bruins were still trailing 19-17 to the Beavers until Shipp scored the next five points to give the Bruins a lead they would not relinquish.
Point-guard Darren Collison struggled against the full-court pressure applied by the Beavers in the first-half. In addition, Oregon State's Josh Tarver's defensive pressure seemed to bother Collison at times and take him out of his rhythm. Tarver had three steals by halftime while Collison had five turnovers in the game.
Although Collison finished with 11 points and 6 assists, it was certainly not one of his better games. Either it was the result of Collison having a sub-par performance or Oregon State' defense - or perhaps both, the Bruin offense sputtered without Collison directing it efficiently.
UCLA had an uncharacteristic nine turnovers by halftime with seven of them off steals by Oregon State.
Junior guard Arron Afflalo had a tough defensive match-up against Beaver's 6'8 forward Marcel Jones and got into early foul-trouble in the first-half limiting his production.
With Collison and Afflalo struggling, Shipp was left to carry the offensive attack, and the sophomore responded scoring 10 points in the first-half to stake the Bruins to a 36-30 lead at intermission.
UCLA could easily had been behind at halftime but Oregon State struggled offensively as well shooting just 35.7% from the field including 14.3% (1-7) from three-point distance. The Beavers only shot 9-16 from the free-throw line for 56.3%.
The Bruins scored the first four points to open the second-half to push the lead to ten. The Beavers tried to stay close but a combination of their lack of team depth and the Bruins physical play eventually wore them down. When Darren Collison hit a three-point shot with just over eight minutes remaining to push the lead to 14 only the final score was in question.
Arron Afflalo finished strong down the stretch scoring 14 points in the game while center Lorenzo Mata recorded 10 points, 5 rebounds, and 3 blocks.
Sophomore Luc Richard Mbah a Moute barely missed another double-double finishing with 11 points and 9 rebounds.
Although the Bruins struggled attacking the zone, they still managed to shoot 47.9% from the field including 38.9% from beyond the arc.
"Any win is a good win," UCLA's Josh Shipp said. "We're not out to impress people. We're just out to win ballgames."
The top-ranked Bruins remained unbeaten with a record of 14-0 and now head to Eugene for a match-up on Saturday against the Oregon Ducks who suffered their first defeat of the season on Thursday losing to USC, 84-82.
(photo credit: AP)
Labels: Game Summaries