Bruins Climb in Polls, Still No.1 in RPI
By Bruin Basketball Report
With North Carolina's upset loss to Virginia Tech last weekend, UCLA climbed a spot in both national polls this week coming in at No.2 in the USA Today/ESPN Coaches and No.3 in the AP polls.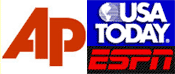 Florida jumped into the No.1 spot in both polls; Wisconsin is No.3 in the Coaches and No.2 in the AP; and North Carolina fall to No.4 followed by Kansas to round out the top five.
The Bruins (15-1, 4-1) are coming off a stunning one-point victory over crosstown rival USC, 65-64. They are tied for first-place with the Oregon Ducks in the powerful Pac-10 conference race.
Pac-10 teams are well represented in both polls. In addition to UCLA, No.10 Oregon, No.12 Arizona, and No.21 Washington St. are ranked in the Coaches poll while Stanford, USC, and Washington each received notice from voters. In the AP poll, only three teams remained with Washington St. just missing the final spot in the ranking.
The Bruins remained No.1 in the RPI rating and is now No.1 in strength of schedule (SOS). With tough remaining games against Pac-10 teams and non-conference opponent West Virginia, UCLA will finish with one of the toughest schedules played in Division I this season.
UCLA will host Arizona St and and Arizona at home this week after playing three consecutive games on the road.
Labels: Polls and Rankings