Afflalo Named to Wooden Midseason Top 30 Candidates
By Bruin Basketball Report
UCLA's junior guard Arron has been named to the Wooden Award Midseason All-American Team.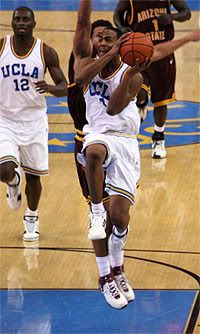 Composed of the top 30 players who will compete for this season's player of the year award, the midseason list is based on individual player performance and team records during the first half of the season.
Afflalo is averaging 17.1 points, 2.2 rebounds, and 2.5 assists a game A tenacious player, the former Centennial HS star is considered one of the top defensive players in the nation, and one of the main reasons why UCLA is tied for first in the Pac-10 and ranked No.5 in the nation.
The Pac-10 is represented by three players. In addition to Afflalo, Aaron Brooks (Oregon) and Marcus Williams (Arizona) are on the midseason list.
Other notables include; Glen Davis (LSU), Nick Fazekas (Nevada), and Taurean Green (Florida) all of whom were considered for the award last season. Green's teammates Joakim Noah and Corey Brewer also made the list.
Three freshmen made the list; Kevin Durant (Texas), Greg Oden (Ohio St.), and Brandan Wright (Kansas)
(photo credit: Jack Rosenfeld)