UCLA Tops Both Polls This Week
By Bruin Basketball Report
After a week which included victories over two Big West opponents, the UCLA Bruins sit atop both the national AP and ESPN/USA Today Coaches polls.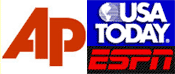 UCLA received 25 of the 31 first-place votes in the Coaches poll while No.2 ranked Pittsburgh received 6 first-place votes. Previous Coaches poll No.1, Ohio St., dropped from the top spot after a loss to North Carolina.
After a grueling set of games at the Maui Invitational, the Bruins came home last week to face two over-matched Big West teams. The Bruins pulled away from Long Beach St., 88-58, for an easy victory on Tuesday and then sacked an injury-depleted UC Riverside team 61-38 on Sunday afternoon.
As a result of playing two lowly ranked teams last week, UCLA dropped to No.8 in RPI while their strength of schedule rating plummeted to No. 44.
Texas A&M, the Bruin's opponent at the Wooden Classic on Saturday, moved up to No.6 this week. The Aggies defeated Pacific 74-62 last weekend and will face No.11 LSU tomorrow in Baton Rouge before arriving for the match-up in Anaheim.
A second Pac-10 team, the Washington Huskies (6-0), moved into the Top 10 in the Coaches poll at No.8 but are ranked No.13 in the AP.
Arizona (5-1) comes in ranked at No.14 and No.15, respectively, in the AP and Coaches polls. Undefeated Oregon (6-0) received increased votes in both polls and may move into the top tier with a defeat of Nebraska later this week.
The Bruins defend their unanimous No.1 ranking on Tuesday against CS Fullerton in Westwood and then travel to the Honda Center in Anaheim to face Texas A&M on Saturday.
Labels: Polls and Rankings