UCLA Leaves Michigan in Ruins, 92-55
By Bruin Basketball Report
In their most dominant performance of the season, the UCLA Bruins demonstrated to the nation why they are ranked No.1 by demolishing the Michigan Wolverines, 92-55, before a raucous Pauley Pavilion and a national television audience Saturday.
The Bruins shot a sizzling 66.7% in the second-half and 58.9% for the game in route to their highest scoring total since the 2004-05 season when they scored 95 points against both Arizona St. and Washington.
But this team is known for its defense, and it was the UCLA defense which never allowed the Wolverines to get on track. Michigan did not score a single field-goal until five minutes into the game and only had nine total in the first half.
While the Bruin defense was in lock-down mode, the Wolverines suffered from relative ineptitude in their backcourt. Without a true point-guard on Michigan's team, the Bruins applied heavy pressure on their ballhandlers making it difficult for post entry passes and instead forcing them to pass around the perimeter where they were easy prey for the Bruins who were overplaying the passing lanes.
"Our defense was really good," UCLA guard Arron Afflalo said. "Each possession is very personal to us. There was a lot of energy in the building today."
When Michigan was finally able to get it inside, the Bruins effectively doubled-down on the post causing errant passes or tipped balls for steals. Michigan's two low-post players Courtney Sims and Brent Petway combined for a total of eight turnovers including two wild passes into the fifth row of the crowd.
UCLA forced Michigan into a of total 23 turnovers of which 13 were steals by Bruins. Sophomore forward Luc Richard Mbah a Moute stole the show, literally, with 7 steals. He also added 13 points including a pull-up jumper and three-pointer from the wing.
"We were doubling the post and I just went for the ball," Mbah a Moute said. "My teammates did a great job of pressuring the ball outside."
After slow starts in earlier games this season, the Bruins came out aggressive and ready to play, racing out to a 8-0 lead which included two Arron Afflalo three-point field goals. When Michael Roll hit his second three-pointer of the first-half to increase the lead to 14, a rout was in the works.
After staking themselves to a 36-23 halftime lead, the Bruins burst out on a 10-2 run in the second-half to end any doubt of the game's outcome. Up by 36 points with well over 6 minutes remaining, UCLA Coach Howland substituted the entire starting line-up with his reserves - a scene which brought back fond memories of Wooden-era early game blow-outs at Pauley decades ago.
UCLA players shared the ball well all game resulting in 19 assists, Darren Collison led the team with eight. He also had 15 points on an impressive 6 of 7 shooting day.
In addition to Mbah a Moute and Collison, two other Bruins scored in double-figures. Josh Shipp led all scorers with 18 points on 7 of 10 shooting and Afflalo added 17 as the Bruins improved their record to 11-0, their best start since the 1993-94 season.
"I think we were really good today. I think we could have beaten most teams in the country," Howland said. "I love the unselfishness of our team. Our quickness was really evident. These guys are just tremendous and its a lot of fun to be coaching them."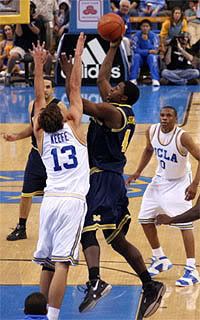 Freshman James Keefe had his second consecutive solid game. Looking more comfortable and confident each time he takes the court, Keefe had 4 points, 5 rebounds and 2 blocks in 10 minutes.
Serbian freshman Nikola Dragovic played in his first game after serving a ten game suspension. He showed some nifty passing from the wing and was 1 of 3 from three-point distance in just six minutes of play.
The Bruins continued their recovery course toward free-throw respectability. They shot 15 of 19 for 78.9% in the game.
UCLA will try to take this momentum into Pac-10 conference play which starts on Thursday at home against Washington St. and Sunday versus Washington.
BBR Notes: The Bruins got a boost before the tip-off when Kelly McLean, a member of the UCLA dance team, gave a rousing rendition of the national anthem which electrified the Pauley crowd.
(photo credit: Jack Rosenfeld)
Labels: Game Summaries