UCLA Bruins Basketball: Progress Report
By Bruin Basketball Report
Despite losing three starters from last year's team and possessing no seniors, the Bruins have displayed a level of cohesiveness normally found only on veteran clubs. Perhaps the fact that the sophomore and junior laden team is NCAA tournament battle-tested having played in six tournament games, including the championship final, has something to do with it.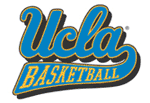 This UCLA team has a swagger about itself.
Players give the impression they can win any game, at anytime, anywhere.
Its not cockiness. Instead, its an assuredness they have in each other, a belief in the system they play within, and a trust in its coaching staff.
It's unrealistic to expect UCLA will go undefeated this season, especially considering the strength of the Pac-10 conference, but it is a special team, which if it can remain injury-free and continue to improve, it may go deep in the tournament.
How far will it go in the tournament? As last year's UCLA team demonstrated, once you're in the tournament - anything can happen.
How are the Bruins doing so far this year as the Pac-10 conference season begins this week? Despite an 11-0 record and an average margin of victory of 17.5 points over opponents, UCLA is doing many things right but even the No.1 team in the nation still has areas to improve upon.
BBR takes an in-depth look at the progress of the 2006-07 UCLA team.

Starters: B+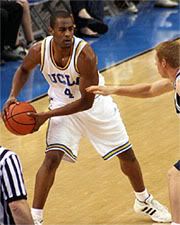 The attitude of teammates and the tone on the court is set by Ben Howland's first UCLA recruit, junior Arron Afflalo. He is a selfless warrior who expects more of himself than anyone else. Afflalo puts the burden of a missed shot or a team loss equally on his own shoulders.
One of the best perimeter defenders in the nation, Afflalo takes every defensive assignment as a personal challenge. He is asked to guard the opponent's best offensive backcourt player which at times can take a toll on his offensive game.
He is the team's leading scorer at 16.0 points while shooting 47.1% from the field and 38.6% on three-pointers. His three-point percentage would be higher if not for a horrendous 3-16 shooting stretch in Maui. Afflalo's rebounding totals (1.6) are noticeably low this season but Coach Ben Howland has placed extra heavy emphasis on transition defense which requires Afflalo to head back immediately after any Bruin shot attempt thus lessening his rebounding opportunities.
Afflalo explored entering the NBA draft after last season before deciding to return for his third season at UCLA, and the Bruins are glad he made the right choice.
Red-shirt sophomore Josh Shipp is close to playing at the level he displayed prior to his hip-injury two summers ago.
Shipp has improved his defensive effort since the start of the season perhaps delivering his finest performance against Michigan by applying good pressure on the outside and stepping into passing lanes. He needs to maintain this defensive effort throughout the season to help take some of the pressure off Afflalo who last year had defensive stalwart Cedric Bozeman helping him with the opponent's top guns.
Shipp has the craftiness and body control to find his way to the basket and get up a shot. He is tied on the team for most free-throw attempts. Paired with Afflalo, they make-up one of the finest set of offensive wings in the nation. Shipp gives the Bruins the additional offensive threat they lacked last season. He is averaging 14.9 points on 47.9% shooting and 38.3% from beyond the arc.
UCLA is running in transition more often this season and as a result they are averaging 9.7 more points a game. With Afflalo and Shipp gliding down on the wings, the Bruins have the perfect point-guard to push the ball up the court in sophomore Darren Collison.
Many were concerned with the early departure of Jordan Farmar to the NBA last season and uncertain whether Collison could handle the full-time point-guard duties, but the kid from Etiwanda HS has proved he can not only just step in but can add a little more.
Collison is averaging 13.0 points and 6.2 assists a game this season. He is shooting an astounding 59.3% from the field and 44.8% from three-point distance. Despite turning the ball over more in recent games, he has played under control while directing the halfcourt offense. But its his extra-gear which has transformed the offense from strictly a halfcourt team into a multi-faceted offense that can beat you in different ways including in transition.
Defensively, Collison has been superb. He is on the front line of the Bruin defense, picking up opposing guards in the backcourt and harassing them until they give up the ball. Considering the Bruins are not big inside the paint, the perimeter defensive pressure Collison, along with Afflalo and Shipp, applies is key in preventing teams from exploiting the Bruin's defensive weakness in the low post with easy entry passes.
Overall, Collison still needs to improve on his turnovers with Coach Howland pointing out that he needs to dribble lower especially in traffic to avoid them.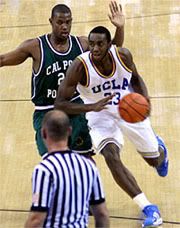 Sophomore Luc Richard Mbah a Moute is averaging 10.5 points on 58% shooting and a team-leading 7.4 rebounds a game. He had one of his finest games of the season against Michigan on Saturday.
Although he scored only 13 points and grabbed 2 rebounds, he disrupted Michigan's game with his low-post defense and quickness and size on the court . Mbah a Moute's most important value to the team is the intangibles he brings to a game. Opponents have to be concerned with keeping him off the boards and his uncanny ability to always be around the ball.
Mbah a Moute has developed a quick first-step which most power forwards have problems defending. At this point. his outside shot is still inconsistent but If he ever develops a mid-range jumper - he will be near-impossible to guard. Yet, its Mbah a Moute's defense, hustle and rebounding the Bruins need for them to be successful this season.
6'9 center Lorenzo Mata has provided solid play in the middle for the Bruins. Plagued by early season knee-surgery, he is averaging just 24 minutes a game but is second on the team in rebounding with 6.5 and leads the team in blocks with 1.2.
He is developing more confidence in a half-hook shot in games and is averaging 6.5 points on 62.3% shooting, although the Bruins count on Mata to deliver more bone-crunching picks, defense, and rebounding than field goal attempts.
Mata has struggled mightily, and has become a liability, at the free-throw line shooting just 27.8%. He obviously must improve in this area if he is to effective on the court late in the game.
While he is strong help defender, Mata has struggled at times with single-coverage post defense even against smaller players, allowing opponents to get too deep on the blocks against him. Although Howland usually compensates for any offensive mismatches inside with aggressive double-teams, a team with good passing big men, such as Florida demonstrated and perhaps Spencer Hawes and Jon Brockman of Washington, may be able to expose this defensive weakness.
Bench: B
Sophomore Alfred Aboya has been the first Bruin off the bench this season. Despite being under-sized for a center, Aboya makes it up with his aggressiveness and energy. Aboya is averaging 4.0 points on 51.5% shooting. in 13.7 minutes a game. He improved his low-post offense over the summer, using his quickness to get to the rim and also is gaining confidence in a 12-15 foot jumper.
Aboya has struggled with foul trouble in some games which has left sophomore Ryan Wright as the next option at center. Wright's early season play has not earned him extra minutes in the rotation. He still has time to step up this season, but with others getting appreciably better with every practice and game, Wright may be hard pressed to see more action aside than as a third option at center.
The five spot is a vulnerable area on the UCLA team. If Mata suffers another injury this season or gets into early foul trouble, the team does not appear to have enough depth to compensate.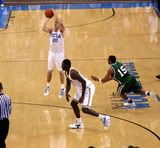 Michael Roll has become more of a complete player this season. Known primarily as a three-point threat, Roll re-tooled over the summer and added a mid-range game. He is averaging 5.3 points on 43.4% shooting and 37.5% from beyond the arc in 16.5 minutes of play a game.
Roll has the size and skill to play both the two and three spot and has been the primary substitute for Shipp and Afflalo. Coupled with solid defense and passing, he has become a valuable player off the bench in his second season.
While still adjusting to college-level ball, freshman Russell Westbrook has given UCLA solid minutes at back-up point-guard. Although he still has much to learn about the UCLA point-guard position, Westbrook has provided good on-the-ball defensive pressure and is shooting well from the field 48.5% overall and 55.6% from three-point distance.
He is averaging only 9.1 minutes per contest, mainly because he's still learning the position but also because Darren Collison is playing so well. Yet, the Bruins will need a more experienced and game-tested Russell Westbrook by NCAA tourney time.
After starting the season rather timidly, freshman James Keefe has come on strong over his last two games averaging 4.5 points, 3.0 rebounds, and 1.5 blocks in 9.5 minutes of play He will need more games with similar effort if he is to gain a regular spot in Coach Howland's rotation. With little depth along the front line, a big contribution from Keefe would bode well for the Bruins chances this season.
Nikola Dragovic returned to the team after sitting out the first ten games of the season due to a suspension. Although he is a highly skilled passer and shooter with good size, he may find it difficult to gain a spot in the team's regular rotation. With Pac-10 conference play starting, there may be less experimentation with line-ups and player rotations shortened. Still, the Serbian is a big time talent who may still contribute to the team this season.
Coaching: A+
What happens when a team losses three starters to the NBA in a year? The team goes undefeated through eleven games if you're coached by Ben Howland.
In his fourth year at the helm, Coach Howland has his own recruits playing in his system.
He not only recruits highly-skilled ball players but also recruits Ben Howland-type players: high character, team-oriented, and highly-competitive winners.
He has developed a foundation at UCLA which will make 25-plus victory seasons and a high NCAA tournament seeding an annual event in Westwood.
Howland's fundamental system of hard-nosed solid team defense and high-percentage offense, matching the talent of his team, is a winning combination. Last season with Jordan Farmar at the helm and a less offensive-potent line-up, the Bruins played a highly-structured offense. This season, with high-scoring wings and a speedster at point, the Bruins have become more of a running team -- yet, the common denominator for both teams is solid defense.
Last season, a stingy UCLA defense allowed just 58.7 points a game on 41.5 shooting. This season, despite running more often and allowing opponents more possessions per game, the defense is still allowing just 59.8 points a game on 41.1% field goal shooting.
As UCLA Coach Ben Howland has shown: Defense wins championships.
(photo credit: Jack Rosenfeld)
Labels: Team Previews