Pac-10 Rises, UCLA Remains No.1
By Bruin Basketball Report
Last season when UCLA Head Coach Ben Howland suggested the Pac-10 conference should regularly have five teams represented in the NCAA tournament every year, some people scoffed at the idea.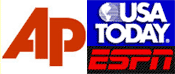 But in a season in which the Pac-10 is ranked second in overall RPI, Howland is beginning to look like a pretty good prognosticator.
Four Pac-10 teams show up in both the AP and ESPN/USA Today polls this week while a fifth Pac-10 team, the surprising Washington St. Cougars (9-1), received votes in both polls.
With victories over CS Fullerton and No.6 Texas A&M last week, UCLA (8-0) remain atop at No.1 in each poll and are joined by three other Pac-10 teams - Arizona, Washington, and Oregon.
In the AP and ESPN/USA Today polls respectively, Arizona (7-1) moved up to No. 10/No.11 with victories over Louisville and San Diego St.; Washington (7-1) was knocked out of the top 10 with a loss to Gonzaga and are at No.17/14; and Oregon (7-0) makes its first 2006 appearance in the top 25 at No.22/24 after defeating Nebraska last week.
Its still early but the Pac-10 conference has been nothing short of impressive in non-conference play. Pac-10 teams carry a combined 66-16 (.804) record against non-conference competition to this point.
With a tough game against highly ranked Texas A&M on Saturday, UCLA moved up to No.2 in RPI ranking and have played the No.14 toughest schedule in the NCAA this season.
Following UCLA in the top 5 of both polls are Pittsburgh, North Carolina, Ohio St., and Florida.
Labels: Polls and Rankings