It's Unanimous, UCLA is No.1
By Bruin Basketball Report
At least in the ESPN/USA Today Coaches poll, everyone agrees, UCLA is No.1. The Bruins received all 31 first-place from coaches voting in this week's poll. While in the AP, the Bruins received all but one first-place vote to remain atop the poll for the fourth straight week.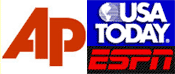 Undefeated UCLA (11-0) impressed voters by swamping Michigan, 92-55, on Saturday. Earlier in the week, the Bruins defeated Sam Houston, 75-61.
UCLA remained ranked No.2 in the RPI ratings, trailing only Arizona. Moreover, the Bruins rank No.6 in strength of schedule (SOS).
The Bruins bring their top ranking into Pac-10 conference play on Thursday when they open against Washington St. (11-1) and then face Washington (10-1) on Sunday at Pauley Pavilion.
Pac-10 teams continued their climb up in the latest polls: Arizona (9-1) reached a No.7 ranking with a big win over No.18 Memphis last week; Washington moved to No.13/14 with home victories over No.15 LSU and Weber St.; and Oregon (11-0) remained undefeated with a win over Mercer to go to No.20. Washington St. remained on just the periphery of both polls.
Ohio St. dropped out of the top five after losing to Florida this weekend, 86-60, leaving North Carolina, Florida, Wisconsin, and Duke to round out the final four spots after UCLA in both polls.
Labels: Polls and Rankings