Bruins Trounce Huskies, 96-74
By Bruin Basketball Report
Arron Afflalo tied a career-high 27 points to lead top-ranked UCLA to a convincing 96-74 victory over the Washington Huskies before 12,042, the largest crowd at Pauley Pavilion this season.
"They basically picked us apart and there was not a whole lot we could do," said Washington coach Lorenzo Romar, "They beat us in every way you could."
The Bruins started out of the gate energized and ready to play going on a 8-0 run. The offense was keyed by an aggressive defense which was no more clearly displayed than when Luc Richard Mbah a Moute stole the ball and went in for a one-handed slam over Jon Brockman erupting the Pauley crowd.
UCLA (13-0, 2-0) aggressively pressured the ball on the perimeter, Darren Collison showed Washington's Justin Dentmon what was in store for him when he stole the ball twice in the opening moments, once feeding Josh Shipp for a lay-up and then taking the other one himself for a rousing slam dunk.
The Bruins were able to extend the lead to 11 points in the first half but the Huskies were able to crawl back and stay around primarily on sharp shooting from the free-throw line. Washington went 8-8 in the half including 6-6 by their freshman sensation Spencer Hawes.
But UCLA went on a 9-0 run to finish the first half, 47-33, capped off by a three-pointer by Arron Afflalo on an assist by Darren Collison.
Afflalo poured in a career-best 20 points including four three-pointers in the first-half. The Bruins shot 50% in the opening stanza, but as it turned out, they were only warming up.
To start the second-half, UCLA scored the first six points to push the lead to 20 points over Washington and it appeared the rout was on.
However, the 13th ranked Huskies (10-3, 0-2) still had one more rally in them going on a 12-2 run keyed by a pair of three-pointers by Ryan Appleby.to trail by only 12 points with twelve minutes remaining in the game.
With Washington back in the contest and gaining some confidence , UCLA's Michael Roll got into the action by hitting a three-pointer from the corner to halt the Huskies' run and then scored the remaining of his 13 points in the second half to help build a lead as large as 27 and put the game away.
Roll finished with 15 points on 6-11 shooting including 3-6 from beyond the arc, but his offensive game went beyond just his perimeter shooting. Roll ran the wing on the break finishing strong twice in transition and again displayed his developing midrange game on a couple of drives into the paint.
Darren Collison finished with a double-double, 15 points and 12 assists, while committing only 2 turnovers in an up-tempo game. He also did a great job defensively holding Justin Dentmon to just 6 points on 2-8 shooting.
"It was great, Collison said. "It's going to be hard to beat us if we have that kind of intensity. It's our best game by far, but we can definitely improve"
Sophomore Josh Shipp added 15 points on 5-10 shooting before pulling up lame in the second-half suffering from apparent leg cramps.
But even with Shipp out for part of the second-half, the Bruin attack was smoking finishing with a season-high 72.4% from the field in the second half on their way to 59.7% in the game. They also shot 48% from three-point distance.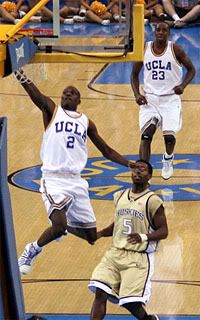 Led by Collison, the Bruins dished out a season-high 29 assists mostly on transition baskets. Arron Afflalo also had 8 assists as he was effective attacking the basket and drawing defenders then finding open teammates for easy scores.
"Arron Afflalo played the best game of his career," UCLA Coach Ben Howland said. "We really answered the bell. That was a very good team we beat."
UCLA's defense forced 22 turnovers which led to 34 points in the game. Luc Richard Mbah a Moute had 3 steals. He also added 8 rebounds, 2 blocks, and played solid interior defense on Washington's Jon Brockman.
Huskies' Spencer Hawes finished with a team-high 21 points including 9-10 from the free-throw line. But the freshman, along with Brockman, had difficulty with the Bruin's aggressive double-team in the post. Hawes committed 6 turnovers while Brockman turned it over 3 times.
The Bruins will now travel up to Oregon to play in their first road games of the season at a visitor's gym. On Thursday evening they will face Oregon St. and then go to Eugene to meet Oregon in an early Saturday afternoon game.
(photo credit: Jack Rosenfeld)
Labels: Game Summaries