Bruins Remain No.1 in Polls, No.2 in RPI
By Bruin Basketball Report
With a 21-point romp over Oakland on Saturday UCLA retained its No.1 ranking in both the AP and ESPN/USA Today Coaches poll. The Bruins are also ranked No.2 in the RPI ratings per Ken Pomeroy's ratings.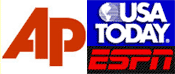 "Its great for the program, the players and the Pac-10," UCLA Coach Ben Howland said. But the great thing about college basketball is that it will all be decided in the NCAA tournament and what really matters is April 3rd (championship game)."
On whether he felt his team was deserving of its No.1 ranking, Howland said "There are probably 15 teams who are very close to one another. There is so much parity in college basketball that the difference between teams is minute."
UCLA junior guard Arron Afflalo gave his perspective on warding off teams looking to knock off No.1.
"We realize it gives opponents an incentive to play hard against us," Afflalo said. We have to find a way to fight off an opponent's adrenaline at the start of the game, and once we get through the first part of the game ourselves we tend to settle down.
Other Pac-10 teams in the polls: Arizona solidified its position at No.9 with a win over Houston (87-62); Washington is No.17 after defeating Portland St. (105-73); and Oregon is No.21/23 with victories over Eastern Washington (100-74) and Idaho St. (84-55)
Washington St. received votes in both polls again this week. The Bruins face the Cougars in their Pac-10 conference opener on 12/28.
Pittsburgh previously ranked No.2 in both polls fall to No.7 after losing to Wisconsin on Saturday.
Labels: Polls and Rankings