Bruins Put Away Bearkats, Remain Unbeaten
By Bruin Basketball Report
With Sam Houston St. storming out to a 9-2 advantage in the game's first four minutes, UCLA turned to an unlikely weapon in their offensive arsenal: free-throw shooting.
The Bruins shot 12-13 from the line in the first-half to take a 35-29 lead into half-time and then pulled alway in the second-half for a 75-61 victory.
After struggling all season from the charity stripe by shooting a miserable 59%, UCLA finished the game shooting 17-21(81%).
In contrast, the Bearkats, not free-throw shooting mavens themselves (68% for the season), converted on only 7-18 from the line.
The game was competitive from the start. The Bearkats (6-5) came out ready to play the No.1 team in the land and stormed out to an early lead by executing their Princeton Offense to perfection, while the Bruin defense lacked intensity and players were slow in defensive switching assignments.
But after a couple of time-outs, the Bruin defense stiffened and they took their first lead with 8:22 remaining in the first-half at 15-14 on a lay-up by Josh Shipp.
Reserve center Alfred Aboya scored only four points in the game but he had two resounding blocks on outside jumpers by Bearkat's center Aaron Wade which seemed to spark the Bruin defense. Now, instead of allowing the Bearkats to take them off the dribble or to freely cut into the paint, the Bruins started doing a better job of denying penetration, pressuring the passer, and bumping Bearkat cutters out of the lane.
"You're going to have games like this. We've got to come out with better intensity," UCLA point-guard Darren Collison said. "We're playing good teams coming up, so we have to pick up the intensity."
By the middle of the second-half, the Sam Houston players started to look weary and began launching numerous three-point shots rather than challenge the Bruins' physical defense. Unfortunately for the Bearkats they shot a woeful 2-13 (15.3%) from beyond the arc in the game.
"This game was good for us to test our mental toughness on defense for long stretches of time." UCLA Coach Ben Howland said. "Other people are going to use that tactic against us."
With the Bearkats physically worn but still only behind 44-40 with 13 minutes remaining in the game, the Bruins went on a 18-5 run over the next eight minutes to put the game away. UCLA shot a sizzling 64% from the field in the second-half and finished 54% for the game.
Shipp had another phenomenal all-around game recording a game-high 18 points on 5-8 shooting including an impressive 8-8 from the line and 5 rebounds, while Darren Collison had 9 assists to go along with 11 points as top-ranked UCLA improved its record to a perfect 10-0.
Arron Afflalo had a rather quiet night offensively scoring 12 points on 4-9 shooting and made all four of his free-throws. Luc Richard Mbah a Moute had a team-high 8 rebounds and added 9 points.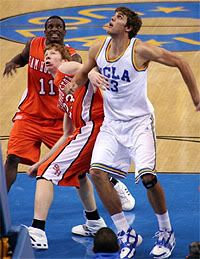 Freshman James Keefe showed more initiative on the offensive end than in past games - looking for his shot, he scored 5 points on 2-4 shooting including a three-point basket to go along with 2 rebounds in 10 minutes of play.
UCLA now begins a trek through the toughest portion of their schedule beginning with a Saturday home game against Michigan (start time at 11:00AM PT) and then Pac-10 conference play commences.
"It's all starting now. We have to be mentally and physically prepared," Howland said. "I thought we could be close to where we are right now, but you have to take it one game at a time. Our league is the best since I've been here."
BBR Notes: Junior Arron Afflalo suffered a sprained finger during the game but he will be able to play against Michigan on Saturday.
(photo credit: Jack Rosenfeld)
Labels: Game Summaries