Bruins in the NBA Report
By Bruin Basketball Report
With the NBA already reaching the first quarter mark of the season, BBR updates the progress of UCLA alumni in the big leagues.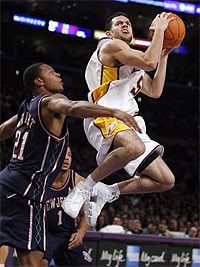 Jordan Farmar, Los Angeles Lakers, Guard: We thought it would take Farmar at least until the all-star break to earn serious minutes under Lakers coach Phil Jackson, but the former Bruin has not only earned the respect of Jackson and his teammates - he's earned serious consideration to be the Lakers starting point-guard this season.
Farmar, already a Staples arena favorite, has quickly picked up the nuances of the triangle and in many instances has outplayed his veteran counterparts Smush Parker and Sasha Vujacic.
The former Taft HS star is playing an integral part in the Lakers return to atop the Pacific Division this season. Farmar is averaging 6.4 points and 2.5 assists in 18 minutes of action per game while shooting 48.4% from the field and 35% from beyond the arc.
Farmar has played adequately on defense, staying in front of his speedy opponents in most instances, fighting over the top of hard screens, and applying what he learned while at UCLA under Coach Ben Howland.
"The (Lakers) defense is a little different from the philosophy Coach (Ben Howland) had at UCLA," Farmar said. "There, you did the same things every game, regardless of the personnel or the situation. Here, we're changing things up every game, and there's a lot of games. But I was exposed to a lot of help-defense at UCLA, and that's paying off here."
Baron Davis, Golden State Warriors, Guard: Notice to the NBA: Baron is back! Davis successfully shed 15 pounds before the start of the season in hopes of regaining his all-star form - and he is doing just that.
Davis is averaging 20.1 points and 8.2 assists per game, but more importantly he is shooting 44% from the field after averaging less than 40% the past few seasons. Although he still takes some questionable shots, his shot-selection has improved under new Coach Don Nelson.
Nelson had tried to free up Davis from some point-guard duties by giving former-Duke player Mike Dunleavy the point-forward role, but Dunleavy has been a disappointment and is currently in Nelson's doghouse and thus Davis is back to his full-time duties at the point.
Matt Barnes, Golden State Warriors, Forward: The emerging play of Matt Barnes for the Warriors has been a great story this season. Barnes entered the Warriors camp as a free-agent invitee and made the team on the final day of training camp.
No longer the guy at the end of the roster, Barnes has been a key contributor off the bench for Golden State. He is averaging 7.3 points and 3.0 rebounds in almost 18 minutes per game while shooting 52% from the field and an incredible 46.2% from three-point distance. Barnes recently scored 20 points against Seattle hitting 4 three-point shots in a season-high 37 minutes of action.
Earl Watson, Seattle Sonics, Guard: After playing the good solider at the start of training camp and not complaining about the point-guard controversy on the team, Watson's attitude changed when the Sonics announced they were giving the starting job to Luke Ridnour without giving Watson a chance to earn it.
As a result trade rumors have been circulating with one indicating he might be headed back to Memphis. But Watson is still with the Sonics and has actually picked up his play after a rough start to the season.
Watson is averaging 6.9 points and 4.1 assists in 21.5 minutes but was mired in a 33% field goal shooting slump, however over his last three games he is averaging over 16 points a game on 45% shooting. He may still be traded before the trading deadline but it will likely depend on whether the Sonics are still contending.
Trevor Ariza, Orlando Magic, Forward: After missing all of training camp and the first five games of the season due to a sore right foot, Ariza has been a key player off the bench for the division-leading Magic.
Ariza is averaging 5.9 points and 3.5 points in 18.1 minutes per game. The coaches have been impressed with his solid defense and he has been a spark off the bench
Darrick Martin, Toronto Raptors, Guard: Martin has spent most of the season on the Raptor's inactive list. Although he has played in only two games, Martin's expected role this season was to serve as a mentor to young T.J. Ford.
Jason Kapono, Miami Heat, Forward: Over his last four games, Jason Kapono has been averaging 11.5 points a game on 50% shooting and 44% shooting from beyond the arc in 22 minutes of play. In his last game against the Denver Nuggets, Kapono went off for 19 points on 6 of 11 shooting.
Dan Gadzuric, Milwaukee Bucks, Center: Gadzuric is having another solid season serving as back-up center for the Bucks. He is averaging 4.6 points and 3.8 rebounds in over 14 minutes a game. His name has been mentioned in a number of trade rumors this season but his large contract has been a hindrance for Milwaukee management to move.
Cedric Bozeman, Atlanta Hawks, Guard-Forward: After early injuries to Marvin Williams and Speedy Claxton, Bozeman started the first month of the season in the Hawks regular rotation.
With Hawks star Joe Johnson playing practically the entire game and with Williams and Claxton returning to action, Bozeman's minutes have dwindled and he is now averaging under 5 minutes of action per game.
Although he is averaging just under 1.0 points a game, it is Bozeman's solid defense and his ability to guard three positions which will earn him more minutes in the future with the Hawks.
Waiting in the Wings of the NBDL
Ryan Hollins, Charlotte Bobcats/Fort Worth Flyers, Center: Hollins was sent down to the Fort Worth Flyers of the NBDL at the start of the season. He is averaging a double-double, 12.2 points and 10.4 rebounds a game. Hollins is also averaging 2.0 blocks a game. He has impressed coaches with his aggressiveness and shot-blocking. It wouldn't be surprising to see Hollins up with the Bobcats before the end of the season.
Dijon Thompson, Albuquerque Thunderbirds, Guard-Forward: Thompson was cut from the Warriors team during the first weeks of training camp and joined the Albuquerque Thunderbirds a few weeks ago. He is third in the league in scoring average at 20.8 points per game. Last season, Thompson played with the Thunderbirds before being called up by the Phoenix Suns.
TJ Cummings, Albuquerque Thunderbirds, Forward: The 6'9 Cummings is a veteran of the NBDL and is once again playing alongside Dijon Thompson on the Thunderbirds. He is averaging 13.9 points per game on 53% field goal shooting.
(photo credit: AP and Orlando Sentinel)
Labels: Bruins in the NBA Report