Wooden Inducted into Hall of Fame
By Bruin Basketball Report
Legendary UCLA Coach John Wooden was inducted into the National Collegiate Basketball Hall of Fame today in a ceremony held in the Crown Center Exhibit Hall in Kansas City.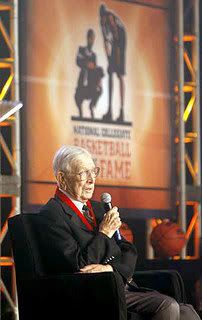 Wooden was joined in the inaugural class by Dean Smith (North Carolina), Oscar Robertson (Cincinnati), Bill Russell (USF), and Dr. James Naismith.
They stand for more than 100 former players, coaches and contributors currently members of the Naismith Basketball Hall of Fame (Springfield, MA) with strong college roots, who will be automatically included in the new college hall.
"Our committee identified these five. You could make it 12, or 30 or 50. Wherever you draw the line, you could say what a great group," said Jim Haney, executive director of the National Association of Basketball Coaches. "But the five representing this founding class had significant impact on college basketball."
Wooden and Russell traded a few good old memories from their days together with the audience.
"A couple of times I thought that I had a pretty good team and we had to play them in the tournament and they knocked us out," said Wooden, his lips curling into a smile. "He never said he was sorry."
"We won those back-to-back championships, and I remember the last game we lost was to Coach Wooden in Westwood," Russell said. "And we left there with the conclusion that if you wanted to lose a game, go to Westwood."
The Hall of Fame is part of the College Basketball Experience, an interactive attraction that will eventually be incorporated into the new Sprint Center arena, set to open in downtown Kansas City next year.
Organizers say the Kansas City Hall is not meant to compete with the Naismith hall nor with the Women's Basketball Hall of Fame in Knoxville, Tenn
Coach Wooden coached at UCLA from 1948 to 1975 compiling a record of 620-147. (808) and led the Bruins to 10 national championships. As a collegiate basketball player in Indiana, Wooden was a three time All-American at Purdue (1930-32) and was named College Basketball Player of the Year in 1932.
(photo credit: L.A. Times)
Labels: Coach John Wooden