UCLA Vaults to No.1 in AP, No.2 in Coaches Polls
By Bruin Basketball Report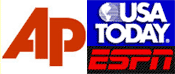 For the first time since their 1994-95 NCAA championship season, the UCLA Bruins sit atop the Associated Press (AP) poll at No.1.
It is UCLA's 129th poll with a No.1 ranking, nineteen more than the second-place Duke Blue Devils. The Bruins received 36 of 72 first-place votes.
After sweeping through ranked opponents, Kentucky and Georgia Tech, to win the EA Sports Maui Invitational and combined losses by former No.1 Florida and No.2 North Carolina, UCLA vaulted from No.5 to the top ranking this week.
AP voters also passed over Pittsburgh and Ohio State, both ranked higher than UCLA last week but who have played a less competitive schedule thus far in the season. Pittsburgh and Ohio State are ranked No.2 and No.3, respectively, in the AP poll
In the ESPN/USA Today Coaches Poll UCLA is ranked No.2 behind Ohio State this week. The Bruins received 13 first-place votes while the Buckeyes received 11. Ohio State faces a tough challenge this week facing North Carolina at home.
"Our players will be excited," UCLA coach Ben Howland said. "I wish it was the last one as opposed to the early poll. We still have a lot to go through."
UCLA is also ranked No.1 in both RPI (Rating Percentage Index) and SOS (Strength of Schedule) per Ken Pomeroy's in-season RPI analysis this week. Both the RPI and SOS are used by the NCAA tournament committee to determine seedings for tournament play in March.
The Bruins are back at Pauley Pavilion this week and play host to Long Beach St. on Tuesday and UC Riverside on Saturday.
Labels: Polls and Rankings