UCLA Up To No.5, Opponents Move Up In Polls
By Bruin Basketball Report
Both AP and ESPN/USA Coaches agree, the UCLA Bruins are the No.5 team in the nation in polls released this week.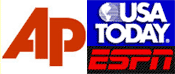 UCLA rallied for a tough 82-69 win over a quality BYU team in their home opener last week. Mbah a Moute led the Bruins with 24 points and 11 rebounds while fellow sophomore Darren Collison added 16 points and 10 assists.
The Bruin's potential opponent at the Maui Invitational tomorrow, the Kentucky Wildcats, are ranked No.20 and 22 in the polls. The Wildcats had opening week victories over Miami (OH) and Mississippi Valley State.
At least for this week, UCLA now has a top 10 opponent on their schedule with Texas A&M moving into the elite group in the Coaches poll. The Aggies are No. 11 in the AP.
Washington and Arizona remain the only other two Pac-10 teams in the polls. The Huskies are No.13 and 16 while the Wildcats are No.15 in both polls. The Oregon Ducks are the only other Pac-10 team to receive votes.
The Kansas Jayhawks took a dive out of the top five after their upset loss to Oral Roberts last week landing at No. 10 and 12 in the weekly polls.
Florida, North Carolina, Pittsburgh, and Ohio State round out the top 5 in both polls.
Labels: Polls and Rankings